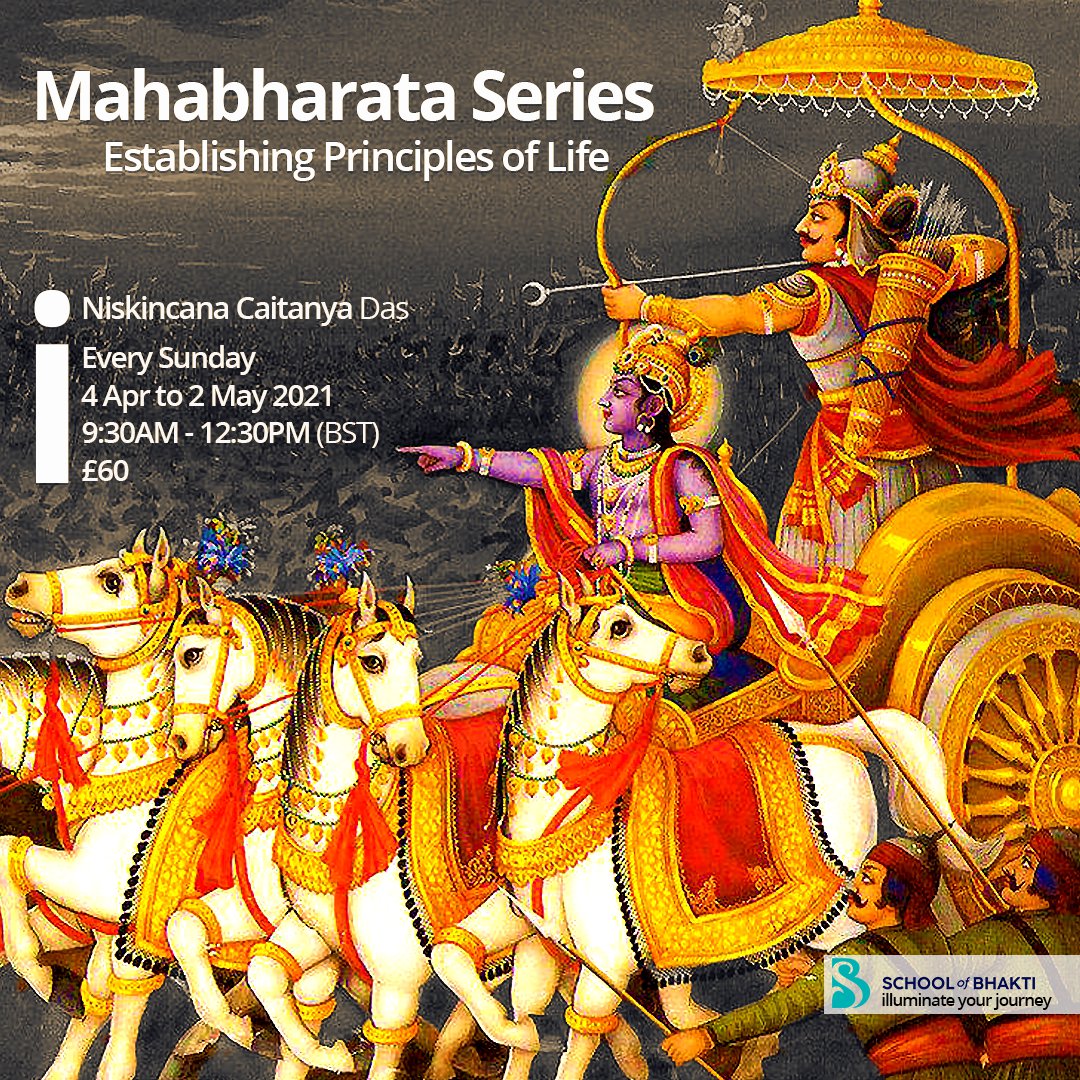 Course Description
The Mahabharata...
A riveting epic from the days of yore that holds powerful meaning for humanity on many levels. Narrated in over 100,000 verses, it's an enchanting story of diplomacy, dilemma, devotion and ultimately love; full of Gods, demons, sages and kings and everything in between. It's a story that can only ever be described in superlative terms.
And yet there's more. Nestled with this historic tale is the divine conversation known as the Bhagavad Gita.  This immortal epic gives us access to the most profound and comprehensive spiritual wisdom and metaphysical understandings known to man – the keys to life, the universe and everything.
At School of Bhakti, we heartfully ask you to join us for our first Mahabharata series. In 5 sessions you'll learn key lessons from the lives of four pivotal characters in the Mahabharata. 
We'll extract immortal principles from their stories, and discover that our lives are not dissimilar to them.
Session 1 & 2: Overview of Mahabharata
Session 3 & 4: Exploring Characters
Bhisma - "The Terrible Vow"
Dhrtarastra - "Spiritually Blinded"
Duryodhana - "The Dirty Fighter"
Arjuna - "Best of the Archers"
Session 5: Mahabharata and Contemporary Issues
This Mahabharat series will serve as an excellent complement and precursor to the flagship Gita Life course that will be conducted at School of Bhakti in May.
About the Teacher
Hailing from a Hindu Bengali family in South London, Niskincana has often grappled with notions of identity, morality and the nature of the knowledge we are privy to and its relevance to modern social discourse. However, overriding all these areas of enquiry, was the question of the nature of existence. Where are we coming from? Where are we going? These were the questions that really stirred Niskincana's interests.
After many years of seeking various ways to real happiness, he finally came across the teachings of Srila Prabhupada, the founder of the Hare Krishna movement. Having served as a monk for the last ten years at the Bhaktivedanta Manor temple, Niskincana has seen how the Krishna conscious way of living can truly benefit people in all facets of existence from the social and the political to the emotional, psychological and, of course, the spiritual level.
Through the School of Bhakti, Niskincana's focus is to build up and bring the magic of Krishna conscious education into people's lives in a contemporary and relevant manner. He is also an avid amateur stage actor and loves entertaining people with Krishna conscious dramas!
When
4 April 2021, 9:30 through 2 May 2021, 12:30