A friendly sacred space
Association with like-minded people is important for those willing to progress on the spiritual path. In order to facilitate this, there are various community groups and gatherings run by the Bhaktivedanta Manor community. There could be something right up your street. Have a look at the options available below and get in touch directly.
Sanga Groups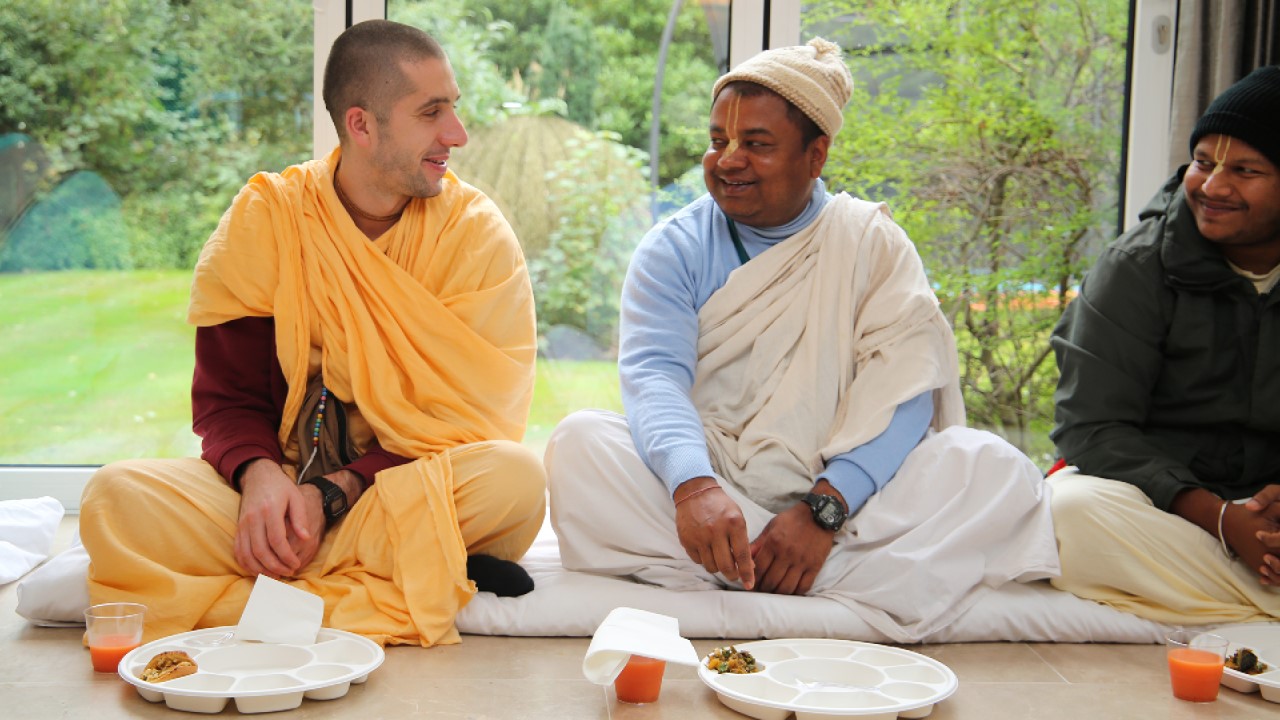 The word "sanga" denotes a gathering of like-minded people. In these monthly groups, individuals come together for an evening of meditation, spiritual discussion, vegetarian food and spiritual fun! It's usually held at the house of a host, and the relaxed environment allows members to gradually enter into the Krishna conscious philosophy at their own pace. Different speakers enlighten the audience on various topics, drawing out teachings from the scriptures which we can apply in our daily lives.
Frequently asked questions
Here are some places where groups are held currently in the London area. But there still might be something close to you. If you don't see your town in the list below, get in touch with us, and we'll sort something out for you.
Burnt Oak
Harrow
Hayes
Kenton
Palmer′s Green
Pinner
Radlett
Southall
Southgate
Uxbridge
Waltham Abbey
Watford
Wembley
To enquire about joining a Sanga Group and to find out where your local gatherings are taking place, then please contact: sanga@krishnatemple.com
There is also a Sanga Group for the deaf or those with a hearing impediment. Deaf Sanga UK meets online twice a month. To find out more, contact: pavitrab@hotmail.com
Bhakti Vriksha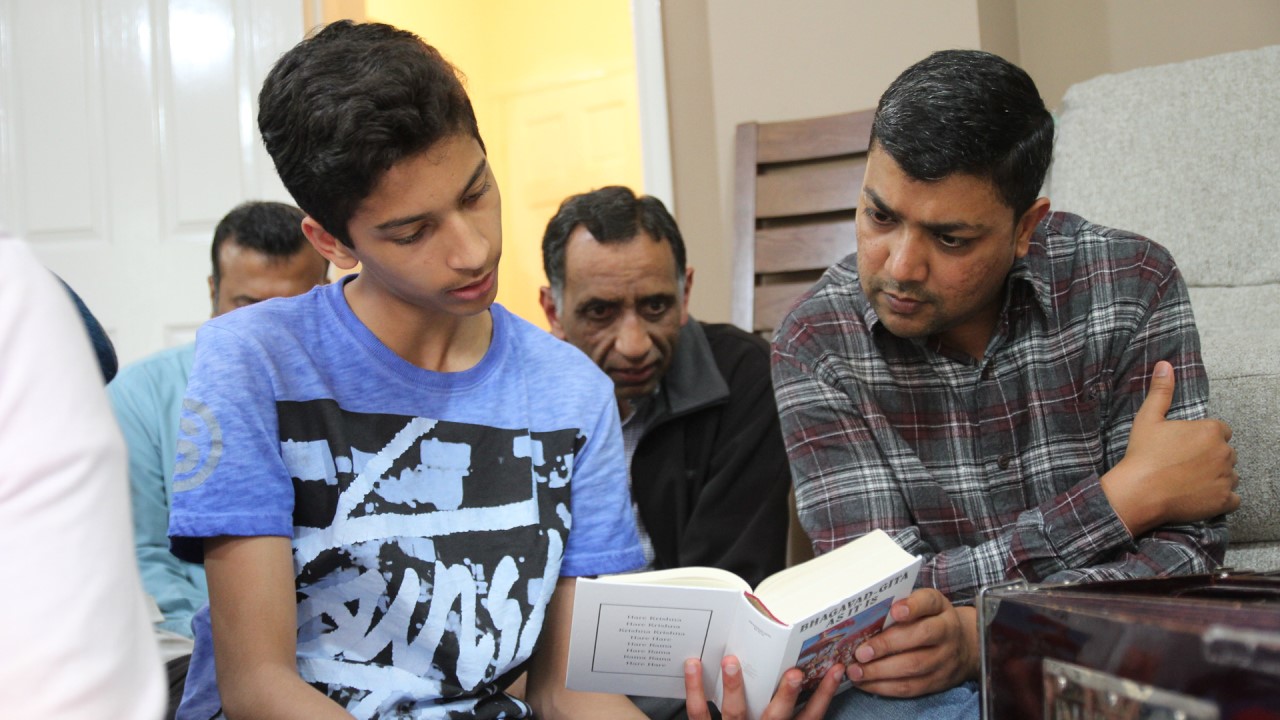 Bhakti Vriksha is an initiative aimed at building a spiritual family. It begins with weekly sessions where 10-15 individuals read passages from scripture, discuss the application in daily life, and share their experiences, inspirations and illuminations. Everything is conducted at different homes, allowing for a warm, inviting atmosphere where spirituality grows naturally. The informal atmosphere allows for open exchange, and close bonds quickly form.
Frequently asked questions
You can start your journey by hopping in to a series of taster sessions lasting up to 8-weeks (2 hours per week) and then review from there. Groups are limited to 20 people. If you're interested, please email: bv@krishnatemple.com for more information.
Find out more by clicking the button below
Manor Mentorship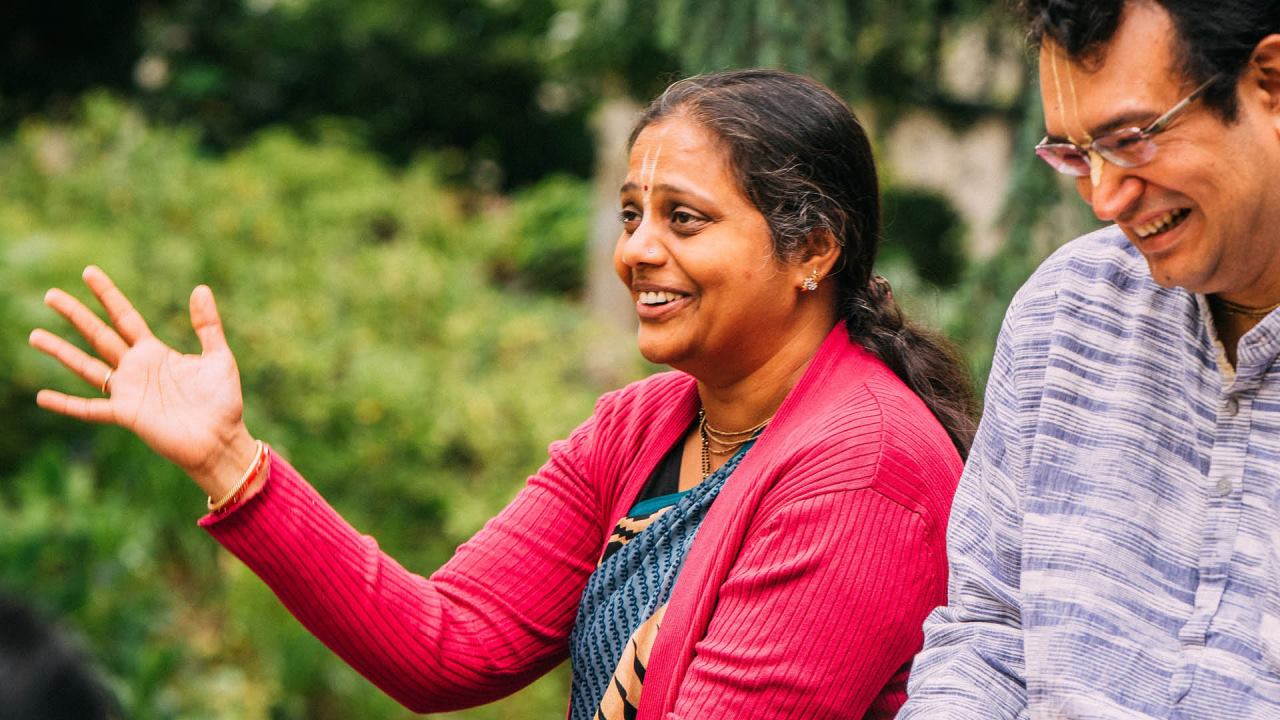 On the journey of life there are twists and turns, ditches and dead ends, obstacles and opposition. But as John Lennon and Paul McCartney wrote, "I get by with a little help from my friends." It's a brave and bold step to strive for purity in a world of duplicity, to embrace simplicity amongst rampant materialism, and to cultivate selflessness in an atmosphere charged with exploitation. On that journey, we all require encouragement, support and the good advice of spiritual friends.
Frequently asked questions
Please visit our Mentorship page by clicking the button below
Please get in touch with us by visiting the mentorship page by clicking the button below and speak to one of our team, who will be able to help you and point you in the right direction.
UK groups
Feel like you're interested in Krishna Consciousness, but you're the only one in your town? It may feel like that sometimes, especially when you're based in a town that is further away from the Manor or other major temples in the UK. However, it is very likely that there are practitioners of bhakti yoga in your town or nearby, and maybe even a regular group meeting taking place. Getting in touch and finding out might be a (spiritual) life saver!
Frequently asked questions
Please send us an email on kw@krishnatemple.com along with some information on where you're based and we'll be in touch.
Although it's not an extensive list, there are some groups listed here you can get in touch with directly. But if you don't see your town on the list or get a response back, please get in touch with us and we'll sort it out for you.