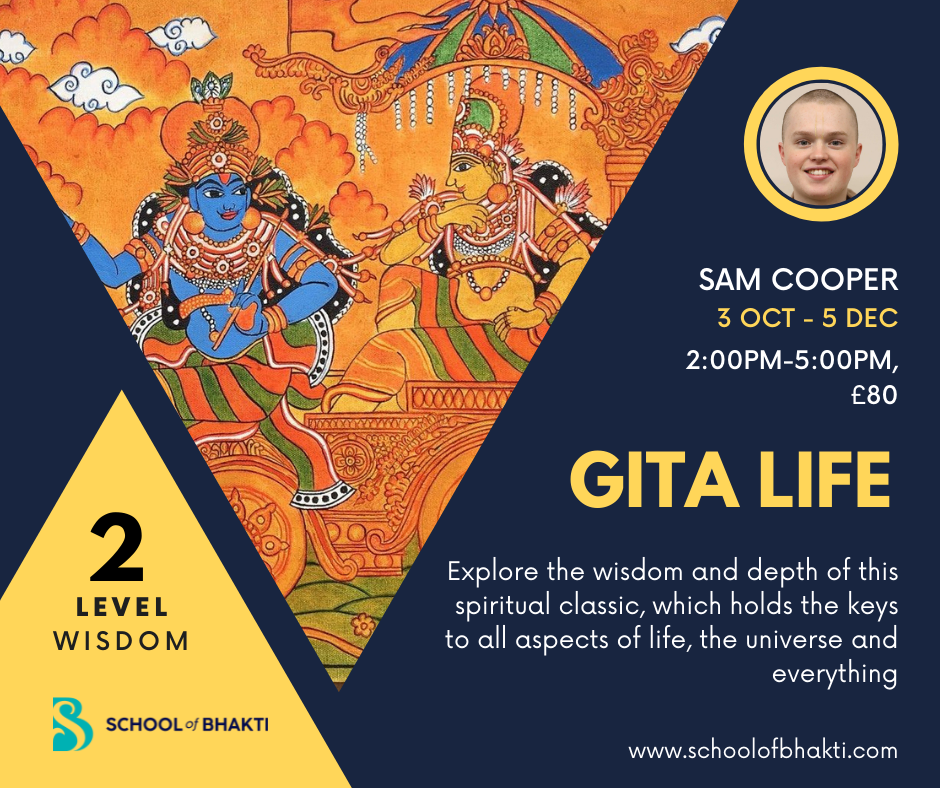 Gita Life
Date: Sunday 3rd October 2021 ~ Sunday 5th December 2021 
Time: 2:00PM - 5:00PM BST
Location: Online and onsite at Gaura Room, Goshala Classrooms, New Gokul Farm, Bhaktivedanta Manor, Dharam Marg, Hilfield Lane, Watford, WD25 8HE
Description of course
The Bhagavad-gita is a theological and philosophical classic. In 700 succinct verses it summarises the conclusions of the Vedas, the ancient scriptures written approximately 5000 years ago in the Sanskrit language. It covers topics ranging from religion to relationships, science to sociology, leadership to lifestyle management: the keys to all aspects of life, the universe and everything. In every generation, over thousands of years, it has provided unceasing inspiration to thinkers, leaders, and spiritualists alike.
The Gita, however, is best understood in the company of other spiritualists where we can discuss and question everything we read.
This Gita Life course will provide
· A chapter-by-chapter summary
· Delineation of pertinent themes from each chapter
· A plethora of life lessons from this historical epic
The 10 sessions are thought-provoking and interactive. Each week is recorded and the audio and slides are sent out, so even if you cannot attend all 10 sessions in person, you have time to listen and catch up in your own time.
Description of teacher
Sam dived into monastic life aged 19 and has never looked back! After studying Sustainable Living and Eco-farming he began globe-trotting, visiting various spiritual communities, unwilling to follow the 'normal' path. On that journey he encountered the wisdom of the Bhagavad-gita and became inspired by the spiritual solutions it offered – socially, environmentally, economically and personally.
At Bhaktivedanta Manor he found this wisdom in action. He did a short residential course, and then travelled to the USA to further his understanding of spiritual environmentalism and simple living. Then, in 2018 he returned to the Manor to take up full-time monastic life. Since that time, he's been avidly studying and sharing the knowledge of the Gita, and finding the ways and means for anyone to powerfully apply it in their life for spiritual self-transformation.
He has a passion for cultivating spiritual community and runs discussion groups, teaches residential courses, and travels in the local area and across the UK to share this knowledge in a variety of forums. Sam is also an incredible chef. He's also not afraid to roll up his sleeves and do whatever practical things are required to keep Bhaktivedanta Manor a beautiful place for all the pilgrims!
When
3 October 2021, 14:00 through 5 December 2021, 17:00
Location
School of Bhakti - Online and Onsite




Gaura Room




Goshala Classroom, New Gokul Farm


Bhaktivedanta Manor,
Dharam Marg, Hilfield Lane


Watford

,


WD25 8HE




United Kingdom
Event Fee
Per Person
£ 80.00
Please confirm whether you will attend the course in person at the Manor or online?
Online
In person