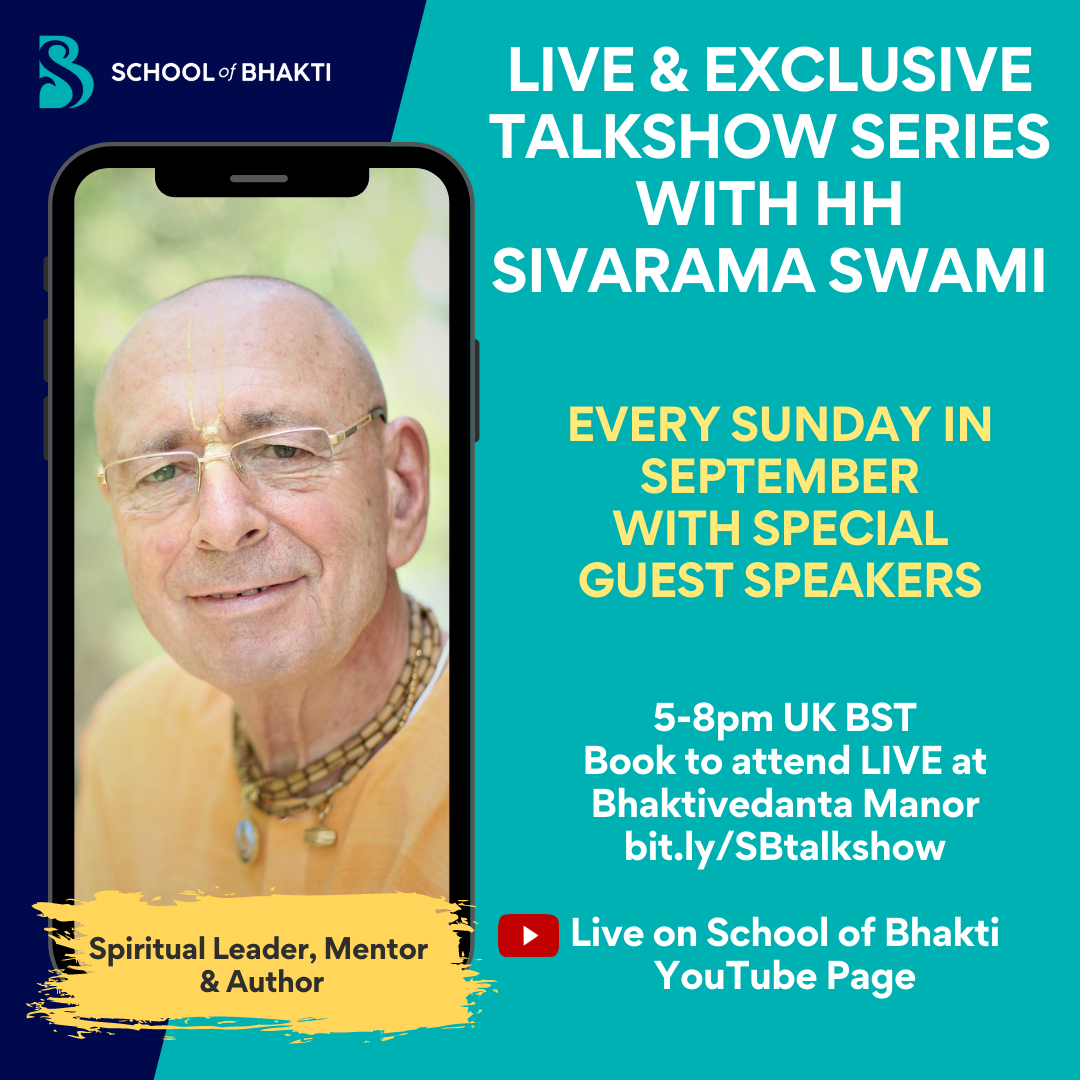 School of Bhakti are excited to present an exclusive four-part Live talkshow series with His Holiness Sivarama Swami, a distinguished spiritual leader, mentor and author. 
The series will consist of four live sessions on each Sunday of this month with HH Sivarama Swami and other distinguished speakers. 
Dates: 5th, 12th, 19th, 26th September
Time: 5pm UK BST
Location: Bhaktivedanta Manor Haveli, Hilfield Lane, Watford, WD25 8HE 
Please book early to avoid disappointment as limited tickets are available! Stay tuned on School of Bhakti social media pages as we release exclusive information on this four-part series and feel free to share this event with others. 
Please only book tickets if you are attending LIVE in person at Bhaktivedanta Manor. For those who cannot attend in person we will be streaming live on the School of Bhakti's YouTube page. 

Please arrange an LFT test to be taken at home on the morning of each session. Please note, only those with negative covid test results will be allowed the right to attend. School of Bhakti and the Bhaktivedanta Manor reserve the right to refuse entry for everyone's safety. 

Donations will go to HH Sivarama Swami & School of Bhakti.
When
26 September 2021, 17:00 through 20:00
Location
School of Bhakti - Haveli




International Society Krishna Consciousness




Bhaktivedanta Manor


Dharam Marg
Hilfield Lane


Watford

,


WD25 8HE




United Kingdom
Donation
Select Date
All 4 sessions
Sunday 5th September 2021
Sunday 12th September 2021
Sunday 19th September 2021
Sunday 26th September 2021
Donation
Free
£ 0.00
Donation
£ 5.00
Donation
£ 11.00
Donation
£ 21.00
Donation
£ 51.00
Donation
£ 108.00