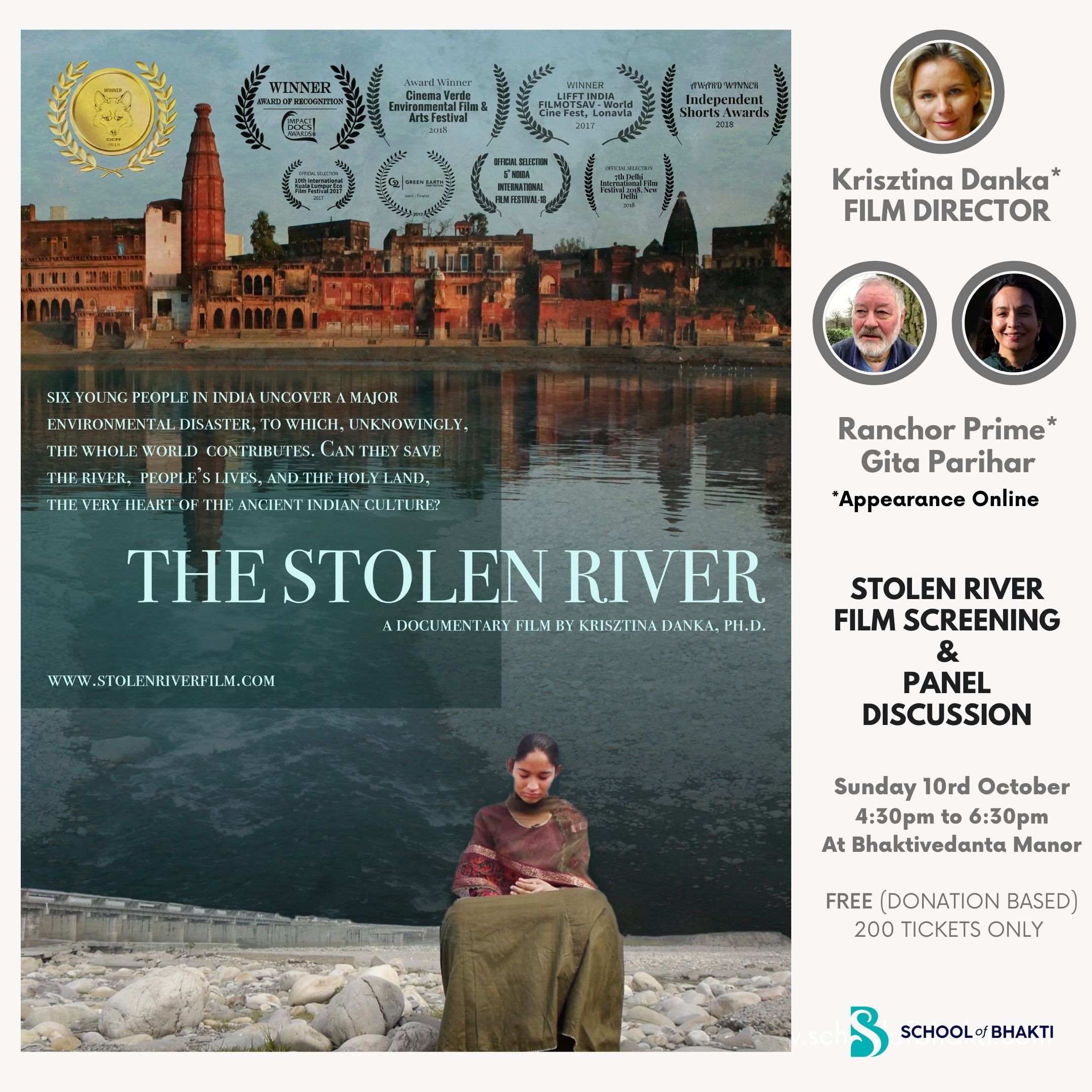 The Stolen River
Date: Sunday 10th October 2021  
Time: 4:30PM - 6:30PM BST
Location: Shree Krishna Haveli, Bhaktivedanta Manor, Dharam Marg, Hilfield Lane, Watford, WD25 8HE
Description
Six young people in rural India set out on a journey to find out who is poisoning their sacred river Yamuna, causing people and animals to fall sick and die en masse in their village and surrounding areas. By the time they arrive at the foothills of the Himalayas, a shocking reality unfolds in front of them: their river has been "stolen" and replaced by an open flow of sewage, causing a major ecological disaster affecting tens of millions - to which, unknowingly, the wider world contributes.
According to one study, around 23% of children along the river in Delhi have a lethal amount of lead in the body. With powerful images and engaging narration, the 'Stolen River' tells an urgent and timely story with grace and beauty.
This powerful and moving film explores the complex factors at play in the pollution of the Yamuna river.
An enlivening evening with an exclusive screening of "The Stolen River", followed by a panel discussion with the director, Krisztina Danka, Ranchor Prime and Gita Parihar.
Important Notes:
This event will take place live at the Haveli, Bhaktivedanta Manor. There are currently limited spaces (200) so book early!
Please do not register for this event if you are not able to physically come to the Manor
Current Manor requirements: entry permitted on presentation of a negative LFT at the Haveli
Krisztina Danka and Ranchor Prime will be present online to participate in the panel discussion which is only available to the attendees at the Manor
Donations will go to the Stolen Rivers project and School of Bhakti
To view the official trailor of this incredible film, click here: The Stolen River - Official Trailer
Description of facilitators
Krisztina Danka
Krisztina is a filmmaker, a literary studies scholar and a human rights advocate. She possesses a Ph.D. in Comparative Literary Studies from the University of Budapest. Her areas of specialty include the sacred Indian literature and the bhakti-movement. As a college lecturer she has been teaching Indian literature and media communications since 1998. She is the Executive Director of Karuna Productions, the writer-producer of over thirty documentaries, author of three books, and dozens of articles. Her films and videos related to environmental, humanitarian, human rights, religious and minority issues have been broadcast on several international television channels.
Ranchor Prime
Ranchor Prime is a musician, artist and author of 13 books including Hinduism and Ecology (1992), Bhagavad Gita: Talks Between the Soul and God (2010) and The Eight Elements (2017).
He trained as an architect and artist during which time he came across the Bhagavad Gita, an ancient scripture revealing profound universal wisdom which led Ranchor Prime to search for something deeper, explore spiritual traditions and live the life of a Hindu monk for 15 years.
He began working as an advisor to WWF, the World Wide Fund for Nature, on religion and conservation, founded an environmental charity for conserving sacred forests in India and has worked in Europe and Asia for 15 years. Now he writes books, publishes and teaches, sharing insights into the ancient Vedic teachings and is an advocate for environmental education, care for the earth's resources and living in harmony with the planet.
Gita Parihar
Gita is an environmental lawyer who works in-house for NGOs and the United Nations. She has a particular focus on human rights, climate change and the environment. Gita is also studying for an MA in Ecology and Spirituality and helps coordinate an ISKCON UK-wide eco sanga. In addition, Gita co-organises annual conferences looking at how to be an activist without getting burnt out and is a trustee of the Climate Justice Fund.
When
10 October 2021, 16:30 through 18:30
Location
School of Bhakti - Haveli




International Society Krishna Consciousness




Bhaktivedanta Manor


Dharam Marg
Hilfield Lane


WATFORD

,


WD25 8EZ




United Kingdom
Donation
| | |
| --- | --- |
| Amount | |
| Free | £ 0.00 |
| Donate | £ 5.00 |
| Donate | £ 11.00 |
| Donate | £ 21.00 |
| Donate | £ 51.00 |
| Donate | £ 75.00 |
| Donate | £ 108.00 |
| Donate | £ 151.00 |
| Donate | £ 251.00 |
| Donate | £ 501.00 |