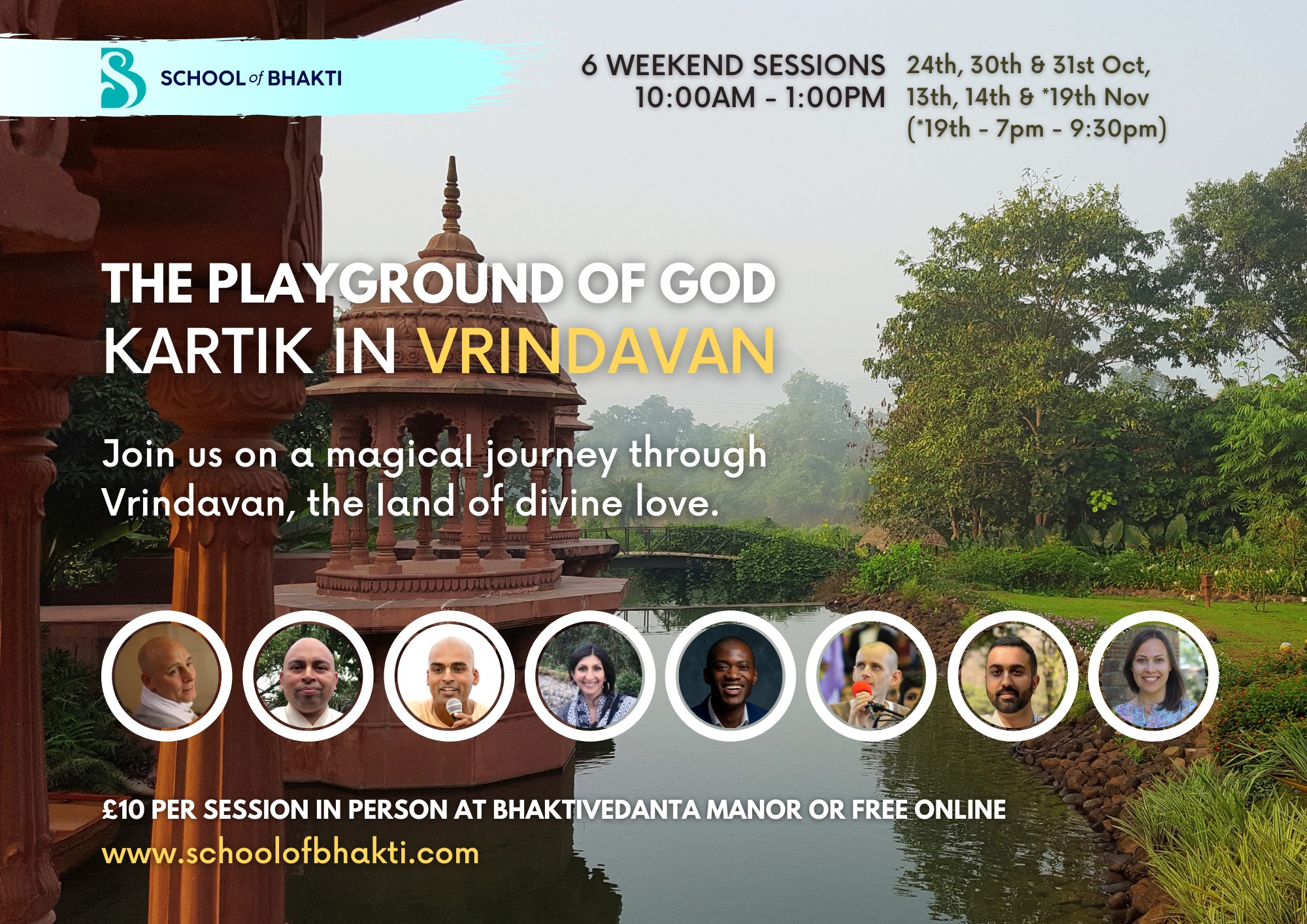 The Playground of God. Kartik in Vrindavan
Date: 6 Weekend session: 24th,30th & 31st Oct, 13th, 14th Nov & 19th Nov
Time: 10:00AM - 1:00PM
Please note that on the 19th Nov, the session will be from 7 to 9:30 PM, all other sessions will be from 10:00AM to 1:00PM
Location: Online and onsite at Bhakti Lounge, Bhaktivedanta Manor, Dharam Marg, Hilfield Lane, Watford, WD25 8HE
EXCLUSIVELY AT BHAKTI LOUNGE, BHAKTIVEDANTA MANOR

As a result of the COVID pandemic, so many of us are missing our regular dips into the transcendental atmosphere of Vrindavan, but here at the School of Bhakti, we have made arrangements to bring that magical mood to you. 

We invite you on a special journey through Vrindavan, the "Playground of God." You don't need any travel documents, vaccinations or PCR tests. You don't even have to book a flight or arrange accommodation in India!

During the month of Kartik, we will be visiting many, many places on the pilgrimage route through the land of Vraja (of which Vrindavan is just one part). There will be kirtans, videos, talks by inspirational senior devotees, a visit to the cow sanctuary, bullock cart rides and more. We want to bring you the sights, sounds, smells and tastes of Vrindavan.

You can join us either online or at Bhaktivedanta Manor, but we only have on-site capacity for up to 51 people, so book your seat early and register your place on this unique journey. Our esteemed panel of speakers, Jai Nitai Das, Kartik Chandra Das, Sutapa Das, Citi-Sakti Devi Dasi, Bhuta Bhavana Das, Radha Londonisvara Das, Radhika-Ranjana Das and Gour Krishna Prabhu, who will act as your guides, will give you an experience that you will carry in your heart forever.
So, SIGN UP NOW to avoid disappointment!
 
When
24 October 2021, 10:00 through 19 November 2021, 21:30
Location
School of Bhakti - Online and Onsite




Bhakti Lounge




Bhaktivedanta Manor


Dharam Marg,
Hilfield Lane


Watford

,


WD25 8HE




United Kingdom
Event Fee
Please confirm whether you will attend the course online or in person at the Manor?
Online
In Person at the Manor
If you have selected in person, please check the dates you would like to sign up for?
Saturday 30th October 2021
£ 10.00
Sunday 31st October 2021
£ 10.00
Saturday 13th November 2021
£ 10.00
Sunday 14th November 2021
£ 10.00
Friday 19th November 2021 7-9:30PM
£ 10.00
Amount
Free
£ 0.00
Donate
£ 5.00
Donate
£ 11.00
Donate
£ 21.00
Donate
£ 51.00
Donate
£ 75.00
Donate
£ 108.00
Donate
£ 151.00
Donate
£ 251.00
Donate
£ 501.00