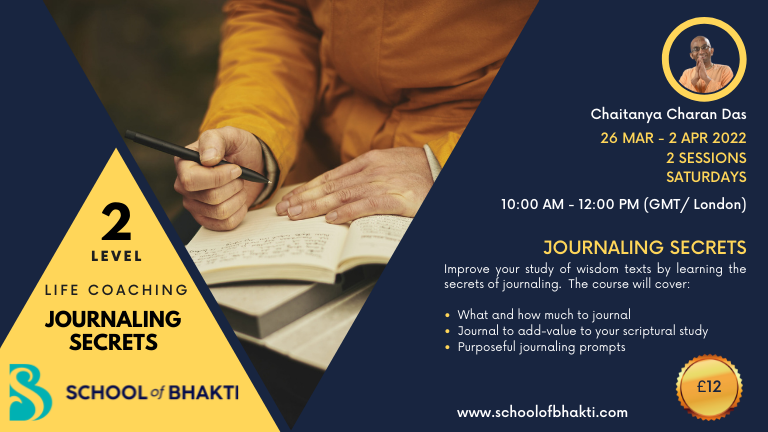 Journaling Secrets - Improve Your Study of Wisdom Texts
Date: Saturday 26 March ~ Saturday 2 April  2022 
Time: 10:00 AM - 12:00PM GMT
Location: Online Zoom and onsite: Paramatma Room, Shree Krishna Haveli, Bhaktivedanta Manor, Dharam Marg, Hilfield Lane, Watford, WD25 8HE
Course Description
While studying wisdom texts, do you sometimes feel distracted, bored or lost? We all can increase our engagement, interest and insight by one simple yet powerful method: journaling about the points that speak to us during our reading. 
What will you get from this course?:  
Discern what to journal about and how much to journal about it
Ensure that you journal effectively so as to add value to your scriptural study, not subtract time from your scriptural study
Learn customized prompts to journal for the particular purposes that are important for you 
If you ever wondered why so many people turn to journal writing as a means to connect deeply and enrich their understanding of what the philosophy is revealing to them, then this is the course for you.  It will not only inspire but also practically help you uncover greater insights when reading and support your spiritual growth.
Teacher Profile
Chaitanya Charan is a monk, teacher and world-renown spiritual author.Seeing the prevailing problems of stress, depression, addiction and overall misdirection in society, he felt inspired to dedicate his life to the purpose of sharing spiritual wisdom. He travels all over the world from Australia to America, making presentations in a multitude of forums.He has addressed audiences in universities such as Princeton, Harvard, Stanford and Cambridge and companies such as Intel, Google, Amazon and Microsoft.   
Chaitanya Charan is also a prolific writer, having authored 25 books and written over 5000 articles. His literary contributions have been published and recognised in many Indian national newspapers including Indian Express, Economic Times and Times of India.   
If all this is not enough, He is the author of twenty-five books some of which are:   
Energy - Your Sutra for Positive Thinking 
Science and Spirituality 
The Spiritual Scientist series, volumes 1 and 2 
10 Leadership Sutras from the Bhagavad Gita 
Inner Change
When
26 March 2022, 13:15 through 2 April 2022, 15:00
Location
School of Bhakti - Online
United Kingdom