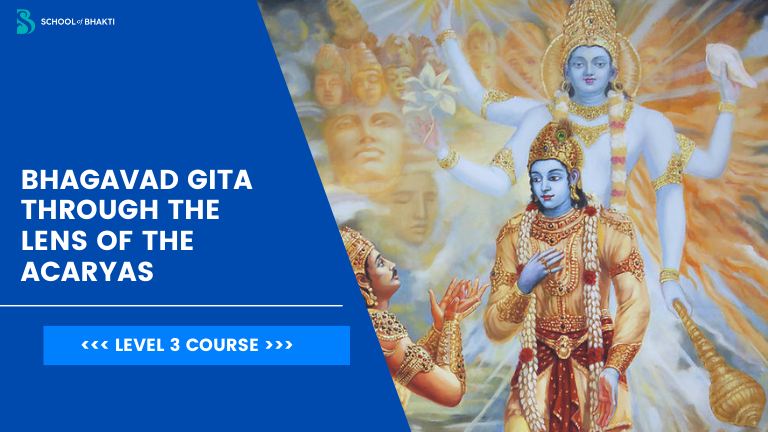 Bhagavad Gita – Through the Lens of the Acharyas
Free Introductory Taster Class: Sunday 3rd July 2022, 11 am to 1 pm, Online, and Onsite - Registration Required.
Here is your one-time opportunity this year to enter the depths of the epic Bhagavad Gita.
This course will provide devotees with an in-depth understanding of this 'Song of God'. It will unravel layers of knowledge through selected key verses, each supported by authorised commentaries of Vaishnava Acarayas.
This deep ocean of knowledge will be explored from a variety of sources that were used by Srila Prabhupada himself when compiling his commentaries on Bhagavad Gita and Srimad Bhagavatam.
Hear the pearls of wisdom of the great Acarayas. Essential to this course is that devotees are ready to explore an intriguing variety of philosophical and Sanskrit grammar viewpoints to seek the mercy hidden in these verses. You will experience a comparison study of Srila Prabhupada's purports alongside the wisdom of Vaishnava Acaryas like: 

-    Baladeva Vidyabhusana
-    Visvanath Thakur
-    Madhavacarya
-    Ramanuja Acarya and others…
 
Prepare to be astonished. 
This free introductory session will be followed by a 4 part in-depth series, every Sunday from 24th July to 14th August from 10 AM to 1 PM UK time. Please visit our website to register.
Teacher Profile
Antaranga Das has since his youth been strongly attracted to science and spirituality, specifically the philosophy behind it. His interest encouraged him to study Psychology in his home country Slovakia. During this academic period of his life, his connection with Śrilā Prabhupāda 's books affirmed to him the world beyond psychological science and upon graduating from his Bachelors in 2015, Antaranga decided to move into the temple community here at the Bhaktivedanta Manor, and has been a residential monk ever since. 
 
His contributions were centred around distributing books and sharing the wisdom to inspire others to live a happy, fulfilling and purposeful life. The School of Bhakti has presented a platform by which he can 'share his understanding of Vedic philosophy in order to help others.' He currently runs courses within the School of Bhakti and gives classes on the Bhagavad Gita and Srimad Bhagavatam for both beginners and advanced spiritualists. Antaranga's enthusiasm for philosophy is contagious and you'll find yourself absorbed in his classes and coming away with an enriching experience  
When
3 July 2022, 11:00 through 13:00
Location
School of Bhakti - Online and Onsite




Gaura Room




Goshala Classroom, New Gokul Farm


Bhaktivedanta Manor,
Dharam Marg, Hilfield Lane


Watford

,


WD25 8HE




United Kingdom
Event Fee
Amount
Free
£ 0.00
Donate
£ 5.00
Donate
£ 11.00
Donate
£ 21.00
Donate
£ 51.00
Donate
£ 75.00
Donate
£ 108.00
Donate
£ 151.00
Donate
£ 251.00
Donate
£ 501.00
Please confirm whether you will attend the course in person at the Manor or online?
Online
In person