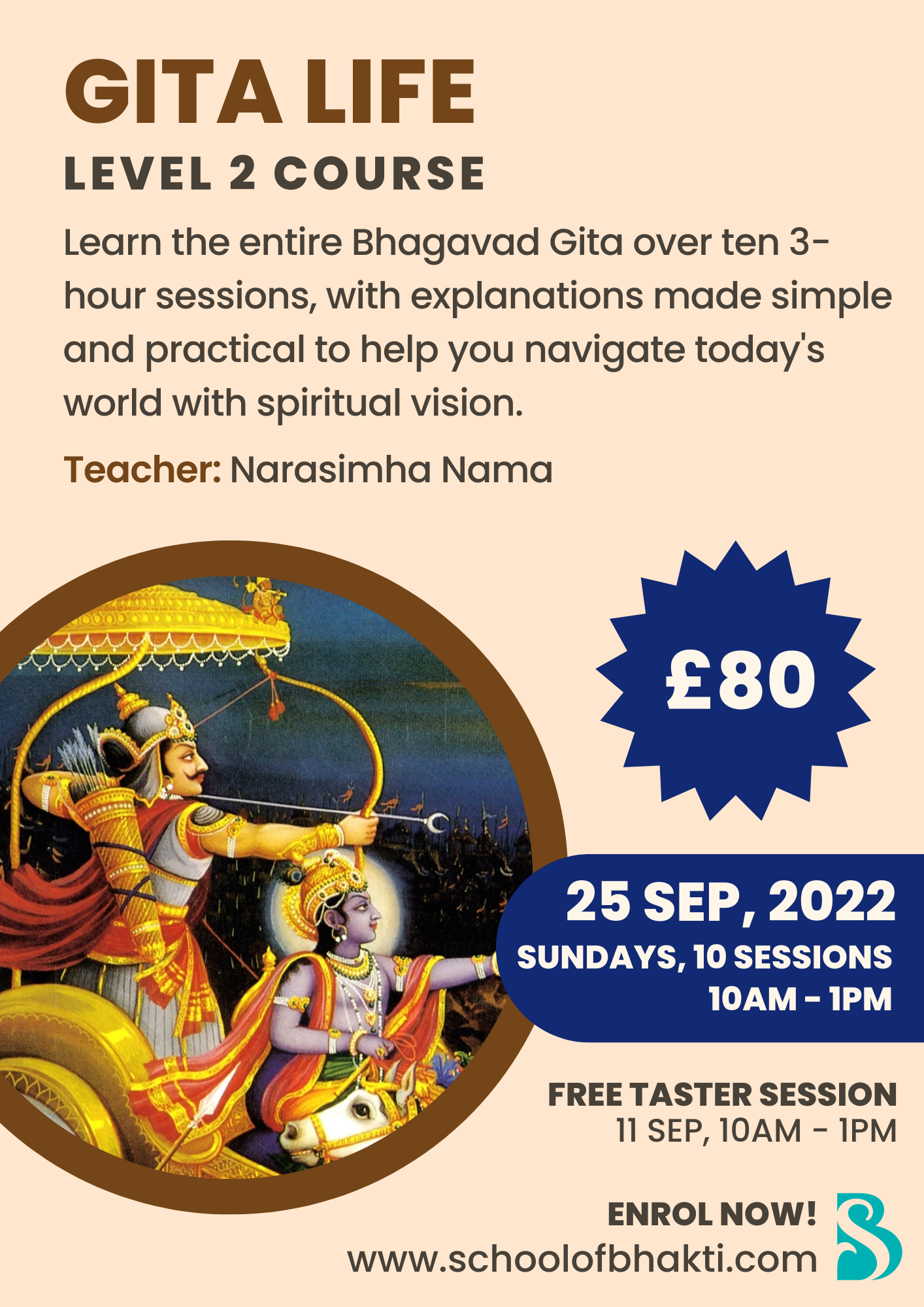 .
Gita Life with Narasimha Nama das
Online and Onsite
Onsite:  Gaura Room, above the Goshala, Bhaktivedanta Manor, Dharam Marg, Hilfield Lane, Watford, WD25 8HE
Online:  via Zoom, the link shared in the sign-up email
When:   Sundays 25th September to 27th November 2022 
Time:    10 am to 1 pm UK time
Cost:     £80

About the Course
The Bhagavad Gita is a theological and philosophical classic. In 700 succinct verses, it summarises the conclusions of the Vedas, the ancient scriptures written approximately 5000 years ago in the Sanskrit language. It covers topics ranging from religion to relationships, science to sociology, leadership to lifestyle management: the keys to all aspects of life, the universe, and everything. In every generation, over thousands of years, it has provided unceasing inspiration to thinkers, leaders, and spiritualists alike.  
 
The Gita, however, is best understood in the company of other spiritualists where we can discuss and question everything we read. 
This Gita Life course will provide 
A chapter-by-chapter summary 
Delineation of pertinent themes from each chapter 
A plethora of life lessons from this historical epic 
 
The 10 sessions are thought-provoking and interactive. Each class is recorded and the audio and slides are sent out, so even if you cannot attend all 10 sessions in person, you have time to listen and catch up in your own time. 

Teacher Profile
Narasimha Nama das' journey into Bhakti yoga started over 10 years ago, sparked by his incessant quest to understand God, life, and the reality of the world around us. Impressed by the intricate, real, and yet relevant presentation of Bhakti Yoga in the books of HDG Bhaktivedanta Swami Prabhupada; Narasimha Nama das decided to complete his post-graduate degree in motorsport engineering and then enter monastic life as a monk to deepen his bhakti practice. 
He spent 5 years as a resident monk in Bhaktivedanta Manor's men's ashram and throughout this time, he focused on studying and sharing the knowledge of bhakti around the UK and Europe to people of all walks of life. In 2018 he decided to move back into the secular world and currently works as a management consultant specialising in developing the learning and leadership abilities within large organisations globally. As well as this, Narasimha Nama das is very passionate about creating conducive cultures and environments where people from all backgrounds can access and benefit from the beautifully practical practices of Bhakti Yoga.  
 
When
25 September 2022, 10:00 through 27 November 2022, 13:00
Location
School of Bhakti - Online and Onsite




Gaura Room




Goshala Classroom, New Gokul Farm


Bhaktivedanta Manor,
Dharam Marg, Hilfield Lane


Watford

,


WD25 8HE




United Kingdom
Event Fee
Per Person
£ 80.00
Please confirm whether you will attend the course in person at the Manor or online?
Online
In person