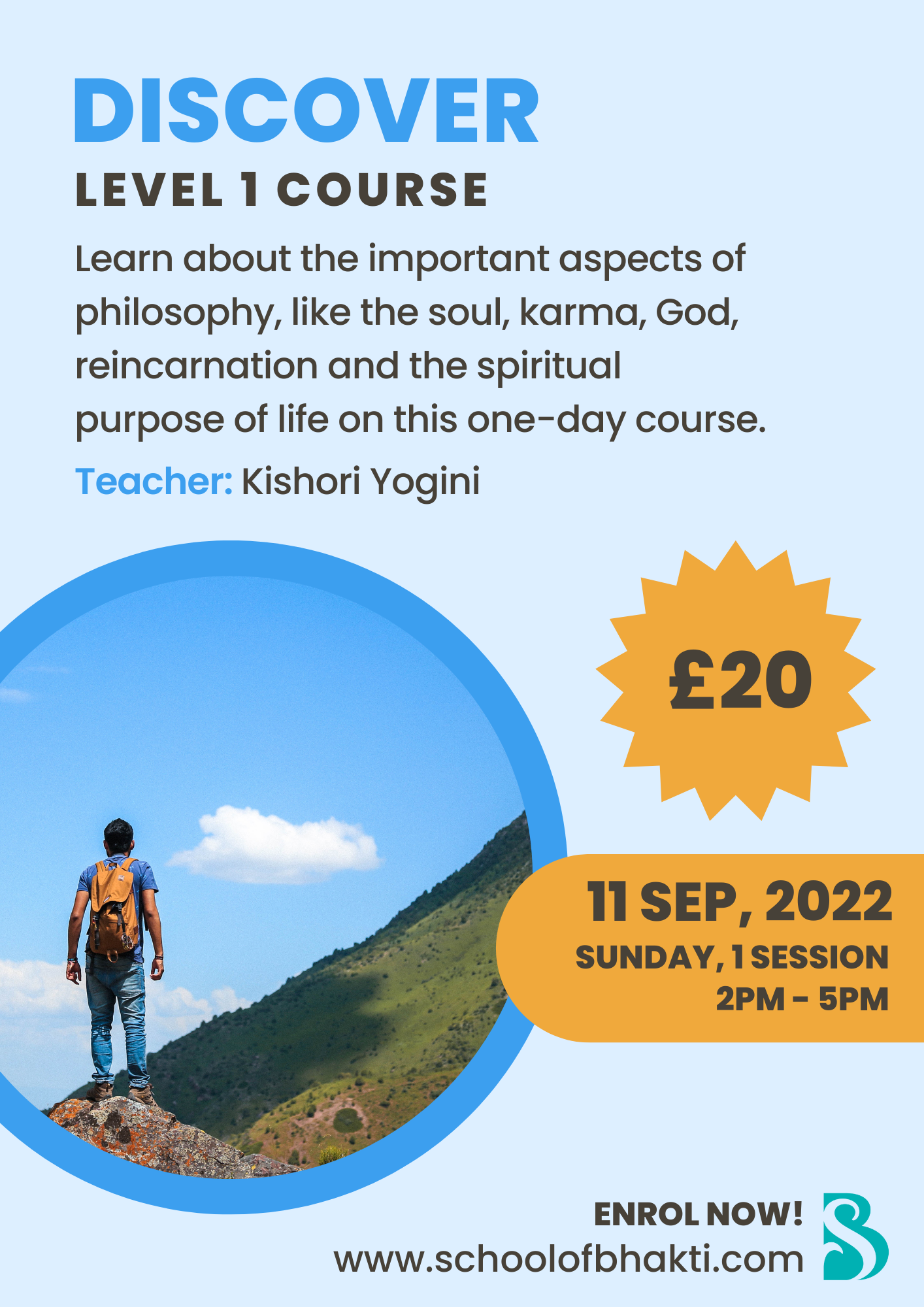 When and Where:
Date:        Sunday 11th September 2022
Time:        2:00 PM – 5:00 PM UK Time
Location: Bhakti Lounge, Bhaktivedanta Manor, Dharam Marg, Hilfield Lane, Watford, WD25 8HE
Course Description
We may say that life is a great mystery, and the study of life is the greatest study of all. Step into the greatest study of all and take a peek into the science of life, uncovering hidden depths that shed new light on everyday experiences.
 
Who am I? Why do bad things happen to good people? How many Gods are there? Undoubtedly, questions of this nature have crossed our minds, usually riddled with uncertainty and confusion. Unravelling age-old questions about the workings of life through ancient wisdom, this course explores the key aspects of life through eastern philosophy in half a day – brace yourself for an enlightening journey.
 
An easy-to-understand, uncomplicated, and no-frills course for beginners on the most important topics of eastern philosophy – here is what you will cover:
The science of the soul: Are we souls, bodies, or some combination of the two?
Understanding Karma: Is Karma real?
The mystery of reincarnation: How does reincarnation work and is there proof?
The science of God: Does God exist and where?
 
Join us for some startling revelations, and thought-provoking discussions. Connect with like-minded curious individuals, hear about, discuss and ask questions on complex and profound topics relating to the soul, karma, and reincarnation, all explained in a simple way. Soul, Karma, Reincarnation, and God – all in one course in half a day - a course that's not to be missed!
Teacher Profile
Kishori was brought up in the very south of England in a picturesque beach holiday destination, the Isle of Wight. After her studies, Kishori decided to venture out to the city of London where she worked in the television industry. Quickly realising the competitive city life wasn't for her, she decided to travel. Her curious adventurous side led her to travel to various parts of Europe, Thailand, Australia, and India. 
  
Kishori has lived in an ashram in Australia for a year and also at the Bhaktivedanta Manor for 8 months serving at the temple. Since then, Kishori has found herself deeply rooted and settled into the Bhakti Yoga tradition and has a passion to share this universal way of life with others. 
  
Kishori has confidently facilitated Bhagavad Gita reading classes, Bhakti Vrikshas, and acts as a mentor for younger women in Krishna Consciousness as well as conducting monthly outreach programs featuring mantra meditation, kirtan, and spiritual wisdom. She is a disciple of HH Jayapataka Swami.  
  
Kishori is a hypnotherapist and is finishing off her studies in psychotherapy. 
She is a 500-hour RYT yoga teacher who cares deeply about mental health, well-being, and cultivating self-love. 
When
11 September 2022, 14:00 through 17:00
Location
School of Bhakti




Bhakti Lounge




Bhaktivedanta Manor


Dharam Marg,
Hilfield Lane


Watford

,


WD25 8HE




United Kingdom
Event Fee
| | |
| --- | --- |
| Onsite per person | £ 20.00 |