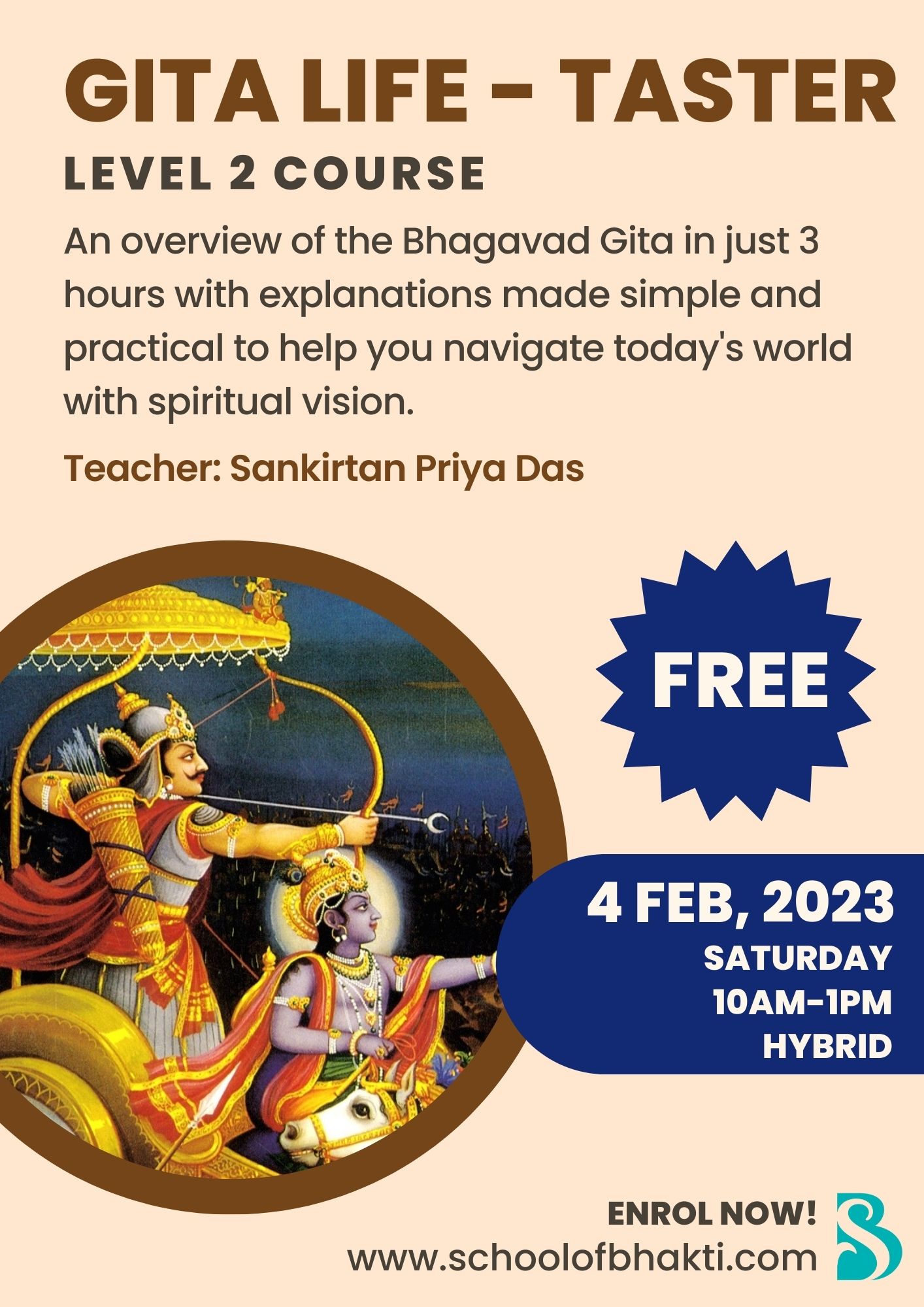 When:   Saturday 4th February 2023
Where:  Online and Onsite: Gaura Room, above the Goshala, Bhaktivedanta Manor, Dharam Marg, Hilfield Lane, Watford, WD25 8HE
Time:    10 am to 1 pm UK time
Cost: Free

About the Course
Join Sankirtan Priya das as he takes us through what is to come on the full Gita Life Course starting on 18th February 2023. You'll learn about some of the amazing life lessons that this timeless wisdom shares for us even today.
In this free taster class, Sankirtan Priya das will show you what's coming on the full course - 10 thought provoking and interactive sessions packed with a plethora of life lessons, chapter by chapter summaries and the most important themes and lessons from each chapter and lot's more!
The Bhagavad Gita is a theological and philosophical classic and on the full course you'll learn how the Bhagavad Gita's 700 succinct verses summarises the conclusions of the Vedas, the ancient scriptures written approximately 5000 years ago in the Sanskrit language. It covers topics ranging from religion to relationships, science to sociology, leadership to lifestyle management: the keys to all aspects of life, the universe and everything. In every generation, over thousands of years, it has provided unceasing inspiration to thinkers, leaders, and spiritualists alike.  
 
The Gita, however, is best understood in the company of other spiritualists where we can discuss and question everything we read. 
This free taster session will give you a glimpse of what is to come! 

Teacher Profile
One of the newest members of the Bhaktivedanta Manor monastery having only joined in 2017, Sankirtan-Priya left his career in the City of London within the Financial Services industry, to swap suits for robes and sleep on the floor at the Bhaktivedanta Manor. 
Born in a small village in North Tanzania with no running water or electricity, Sankirtan-Priya's early childhood was steeped in the culture of Bhakti. Every evening the villagers would gather around as his grandma would recite amazing stories from the ancient Vedic epic, the Ramayana.  
Then at 15, he moved to England with little grasp of the English language and entered a new culture altogether. But with a good head and hard work, he soon attained qualifications in computing and joined an IT consultancy company as a project manager. 
In 1990, he received his first Bhagavad Gītā on a night out in the west end. And his connection to his Bhakti roots immediately got revived. The presence of the Bhagavad Gita in his life helped to anchor him through various personal stresses like losing his father and looking after several family member simultaneously afflicted with various mental and physical illnesses.  
Now after 18 years of experience in the corporate working world and finally leaving the 'rat race', Sankirtan-Priya brings to the School of Bhakti his own unique style of administration and structured approach in creating an organisation that can provide much needed spiritual sustenance for society.   
We look forward to seeing you! 
 
When
4 February 2023, 10:00 through 13:00
Location
School of Bhakti




Gaura Room, above Goshalla




Bhaktivedanta Manor


Dharam Marg,
Hilfield Lane


Watford

,


WD25 8HE




United Kingdom
Donation
Amount
Free
£ 0.00
Donate
£ 5.00
Donate
£ 11.00
Donate
£ 21.00
Donate
£ 51.00
Donate
£ 75.00
Donate
£ 108.00
Donate
£ 151.00
Donate
£ 251.00
Donate
£ 501.00
Please confirm whether you will attend the course in person at the Manor or online?
Online
In person