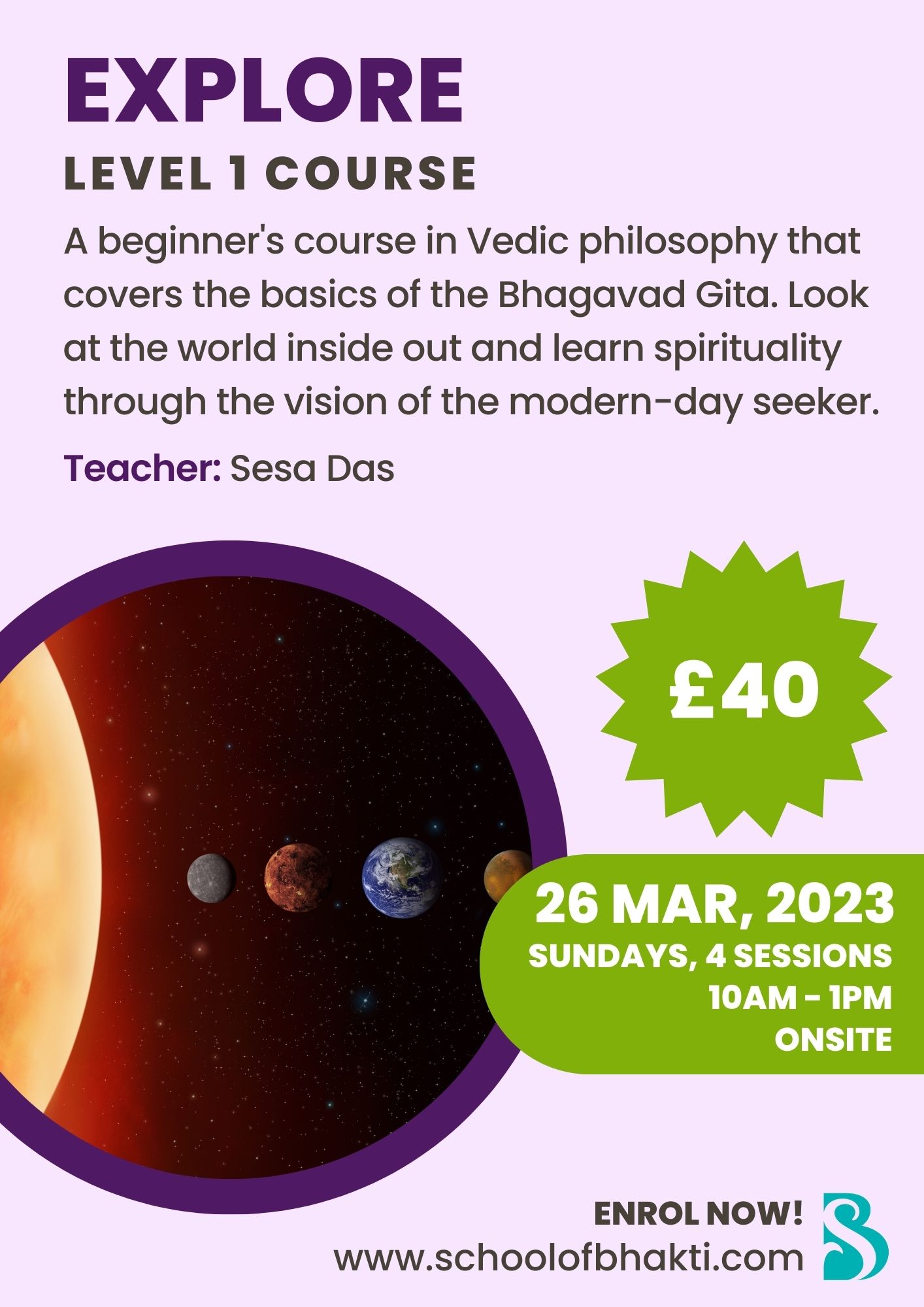 Date:       Sundays 26th March, 2nd, 16th & 23rd April 2023 
Time:       10 AM – 1 PM 
Location: Bhakti Central, Bhaktivedanta Manor, Dharam Marg, Hilfield Lane, Watford, WD25 8HE
Course Description
"The two most important days of your life are the day you were born and the day you find out why." 
Since the beginning of time, philosophers, theologians, and scientists have endeavoured to understand the world in a more profound way. We look up at the stars and wonder what lies beyond. When did it all begin? What happens when I die? Why does love never seem to last? Why do bad things happen to people who are good and decent? We often question our goals and wonder where real happiness is to be found.  
This freedom of thought is the special prerogative of the human being, which, when properly utilised, can help one excel on all levels - physically, emotionally, socially, and most importantly, spiritually. We invite you to explore a deeper way of living.  
In four sessions, we'll discuss topics like karma, reincarnation, happiness, destiny, death, God, and what lies beyond. The group discussions and thought-provoking exercises help you think outside the box and aid you in finding more purpose, direction, and drive in life. 

Teacher Profile
Sesa das grew up in a devotional family, effectively having the Bhaktivedanta Manor temple as his second home since birth. From a young age, he's always been an inquisitive thinker, interested in how our minds operate and the nature of consciousness. He went on to study Mathematics at City University and was intrigued by various perennial questions of life and our purpose. 
Whilst at University he scrutinised and dissected the 'Bhagavad Gita as it is, uncovering the profound truths of who we actually are, why we are here, and what is the purpose of this universe. He then went on to join the Bhaktivedanta Manor temple as a Monk, and got involved in giving philosophical talks at universities, corporates and helping people to enrich their lives with spiritual wisdom. He now works in data and strategy consulting, whilst continuing his involvement in innovative projects to spread spiritual wisdom in relevant, applicable ways. 
 
When
26 March 2023, 10:00 through 23 April 2023, 13:00
Location
Bhakti Central




Bhaktivedanta Manor




Dharam Marg


Hilfield Lane


Watford

,


WD25 8HE




United Kingdom
Event Fee
| | |
| --- | --- |
| Attending Onsite - Person | £ 40.00 |