Tree of Devotion
Roots – Trunk – Crown
We extend ourselves selflessly to protect and nurture the small and the helpless, whether our new baby, or our adorable pet, or a valuable seedling we've recently planted.
Bhakti, devotional service to Krishna, the Supreme Personality of Godhead, is an invaluable seedling – the bhakti lata bija – the seed of devotion. To be nourished, that peerless seed needs the enriching water of hearing from a qualified spiritualist, a saintly person. Such hearing – done without filters or distractions – moves the heart.
Chanting the holy names of Krishna and speaking on His teachings are the natural results of hearing about Him. And after we've been hearing and chanting about Krishna, we'll tend to start remembering and meditating on Him at unexpected but most pleasant moments throughout our days and nights.
Hearing about Krishna, speaking about Him and chanting His names, as well as meditating on what we've heard, are a powerful foundational nourishment for our seed of bhakti. When we become friends with those who are similarly engaged, that foundation becomes stronger still. And when we find variegated ways to use our time, talents, energy, interests and expertise in Krishna's service, we can feel a shift in our heart.
Finally, we're peaceful. Yet we're also ever eager to improve our service to Krishna and His devotees. We're enthusiastic yet patient, too. The harmony we feel within makes us increasingly fortified from the burgeoning disharmony in the world around us. In a word, we're happier. And without over-thinking, we somehow offer the beautiful and enchanting process of Krishna consciousness to others.
Roots
Roots perform the invaluable task of absorbing nutrients and water. Our 'Tree of Life' also requires strong roots to nurture powerful growth. Through that supply of inspiration we develop spiritual vision and infuse meaning and purpose into everything we do.
Trunk
The trunk provides shape, support and connects all elements of the tree together. In the same way, the backbone of our 'Tree of Life' is the community, camaraderie and relationships we form. The empowering company of sincere seekers and practitioners is an indispensable ingredient of spiritual success.
Crown
The glory of a tree is displayed in its beautiful crown which contributes something unique to the world. Our 'Tree of Life' exists so we can also offer something back. Spiritual life is not simply about stillness and contemplation; our inner transformation should inspire practical, spiritual activities dedicated towards making a positive difference.
School of Bhakti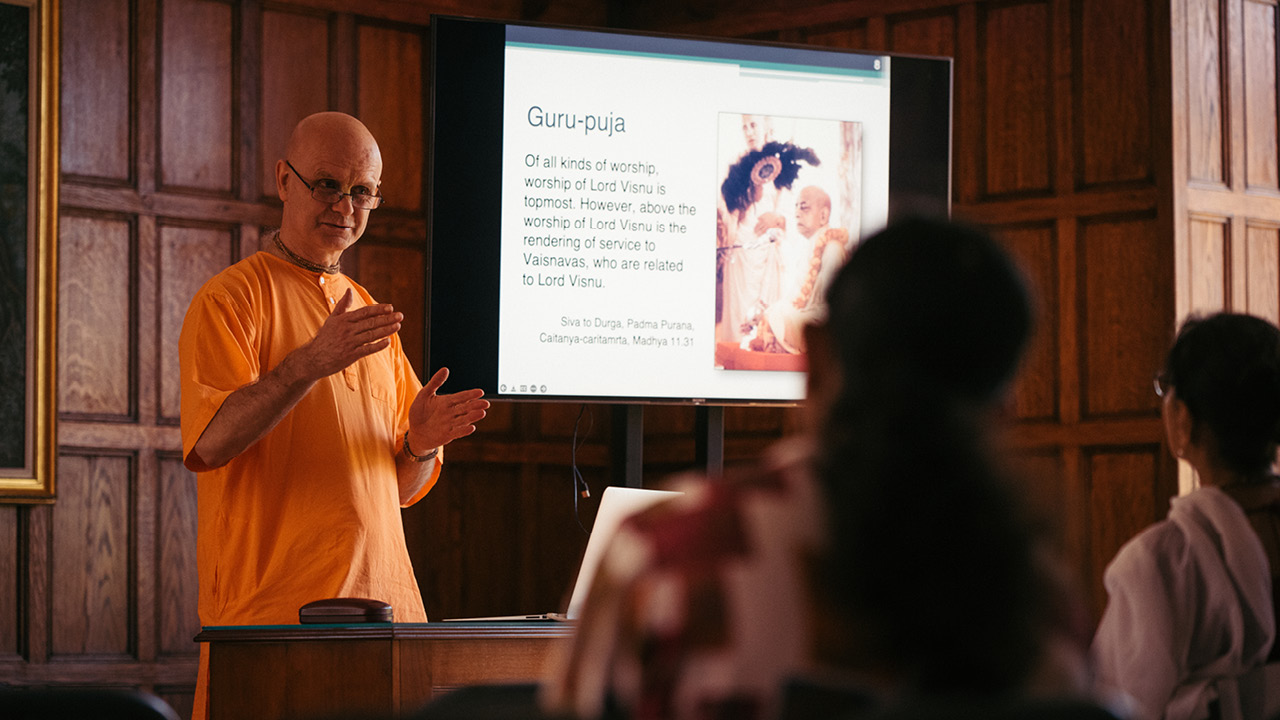 The School of Bhakti offers friendly, down-to-earth tutors who share empowering wisdom and impactful spiritual techniques with the modern-day seeker. Through practical philosophy, lifestyle, culture and spiritual activity, the School facilitates a journey that will inspire and transform the individual on every level.
Krishna Wisdom
Bhakti-yoga is universal – open to anyone and all! Krishna Wisdom crafts events and spaces which provide a comfortable and inspiring atmosphere to explore their spirituality. Even if you are new to bhakti-yoga, the varied events showcase the cultural richness of Krishna Consciousness through the mediums of music, meditation, drama and dance!
Pandava Sena
Pandava Sena offers the youth an opportunity to 'live a life less ordinary!' They are a diverse team of dynamic and caring individuals who are passionate about transforming hearts and changing the world. The youthful community is made up of writers, actors, artists, cooks, speakers, designers, and other change-makers who use their talents to put spirituality on the map.
Krishna Club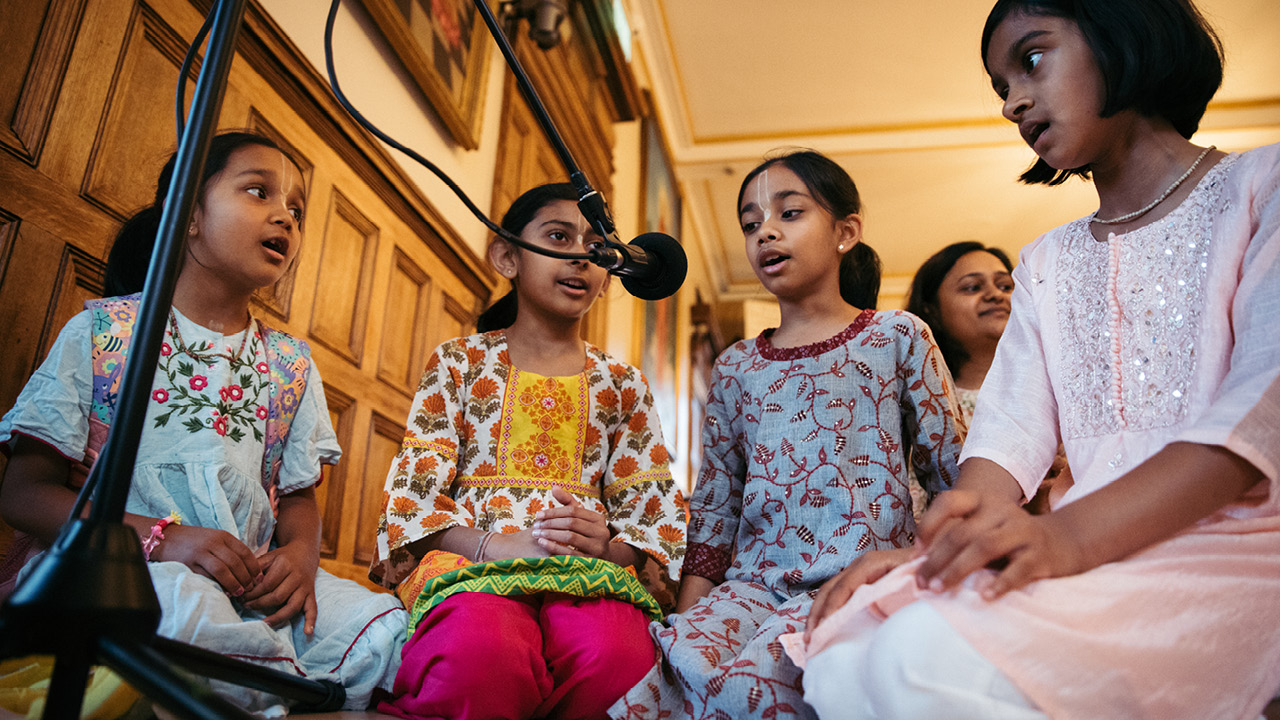 At Krishna Club, 4-13 year-olds learn spiritual wisdom, life values, practical skills, and thus become equipped to face anything in the journey of life. They learn how ancient tradition helps them in modern life, and how cultural practices are still relevant and applicable, especially today.
Spiritual Education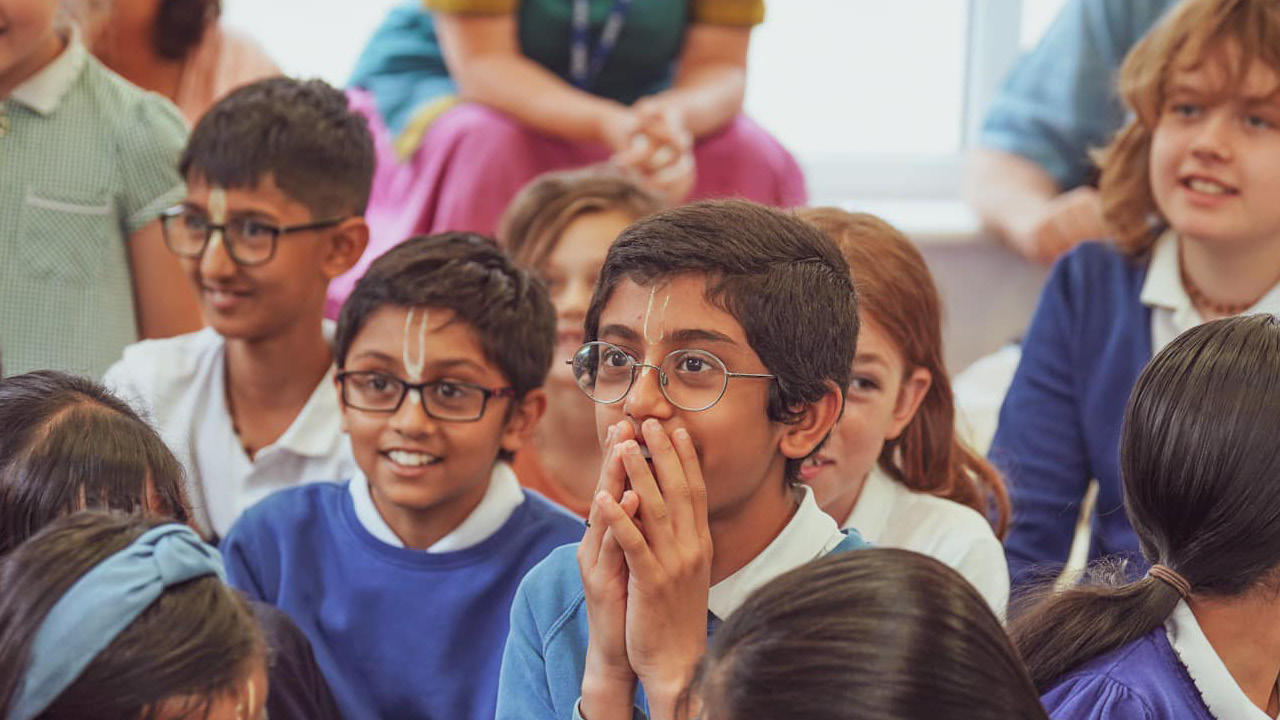 Gurukula
Gurukula – The Hare Krishna Primary School is a small independent school located in Watford, which looks to provide personalised learning in a spiritual atmosphere.
Manor Pre-School
Established over 30 years ago, the Manor Pre-School has continued to educate and encourage children aged 3-5 years old in Krishna consciousness through the Early Years Foundation Stage Curriculum.
Avanti Trust
The idea for Avanti began in 2003 and their first school was opened in 2008. The vision was for there to be a family of schools based upon the core principles of educational excellence, character formation, and spiritual insight.
Manor Mentorship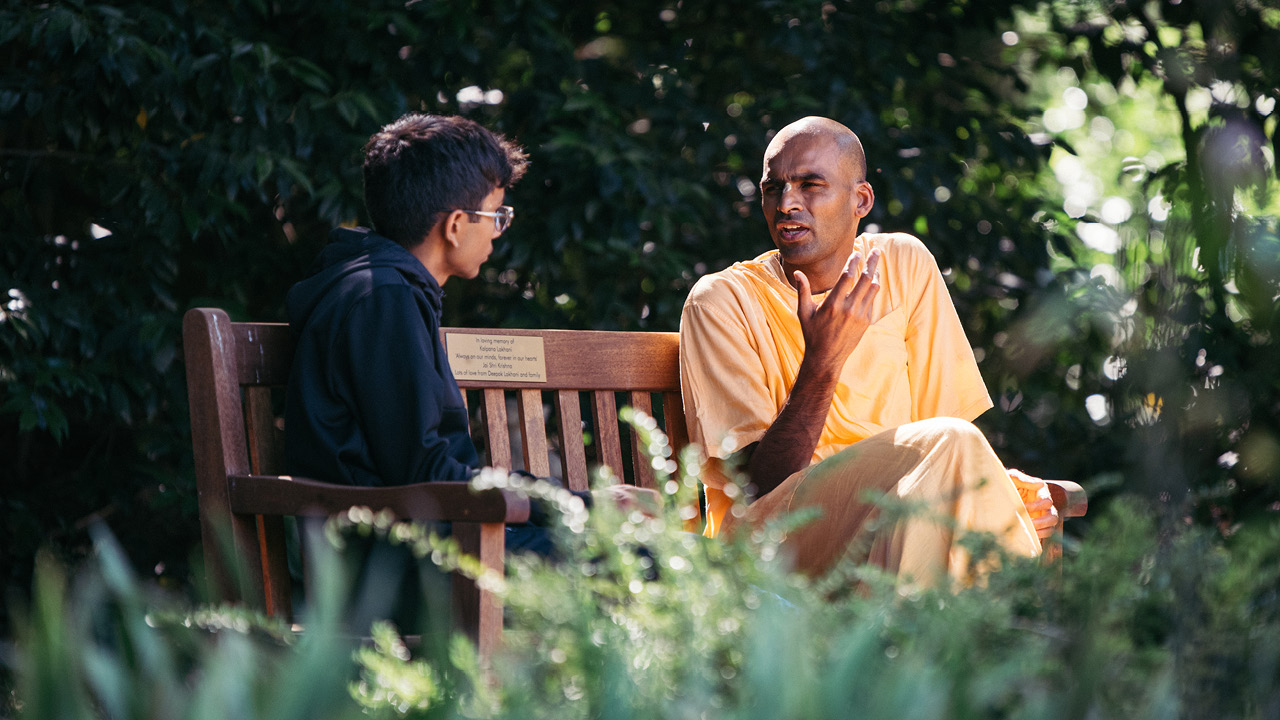 In 2012, Bhaktivedanta Manor launched the Mentorship programme for this purpose. Mentors are positive role models who have progressed on their spiritual journey and have volunteered to assist others to do the same. They have experience and enthusiasm, and can offer tips on how to apply spiritual principles in daily life. Mentees gather with their mentors in a small group on a fortnightly basis, and also meet them one-to-one for personal advice and inspiration.
Spiritual Gatherings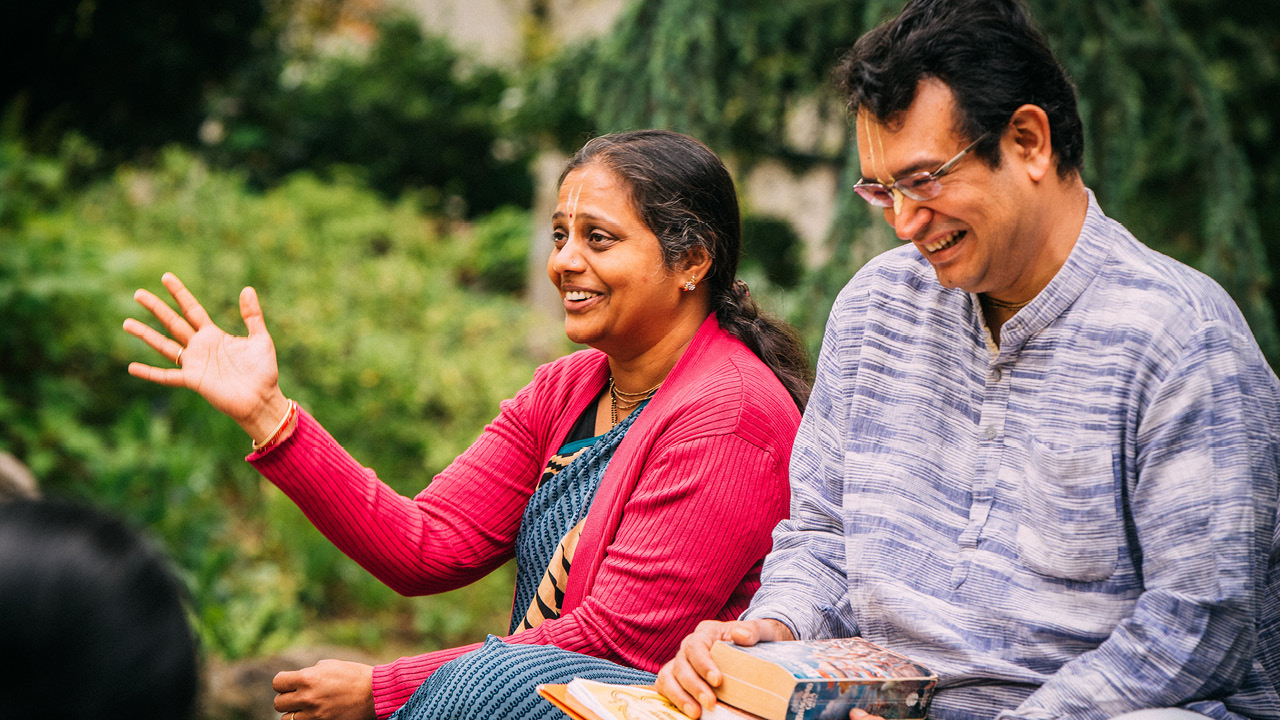 The word "sanga" denotes a gathering of like-minded people. In these monthly groups, 20-30 individuals come together for an evening of meditation, spiritual discussion, vegetarian food and spiritual fun! These community groups function across the UK in cities and towns where there may not be a permanent centre. They function on evenings and weekends so it's practical to attend, and gather in homes, yoga studios, schools, church halls, community centres and libraries. In between events, the members keep in touch and support each other.
Volunteering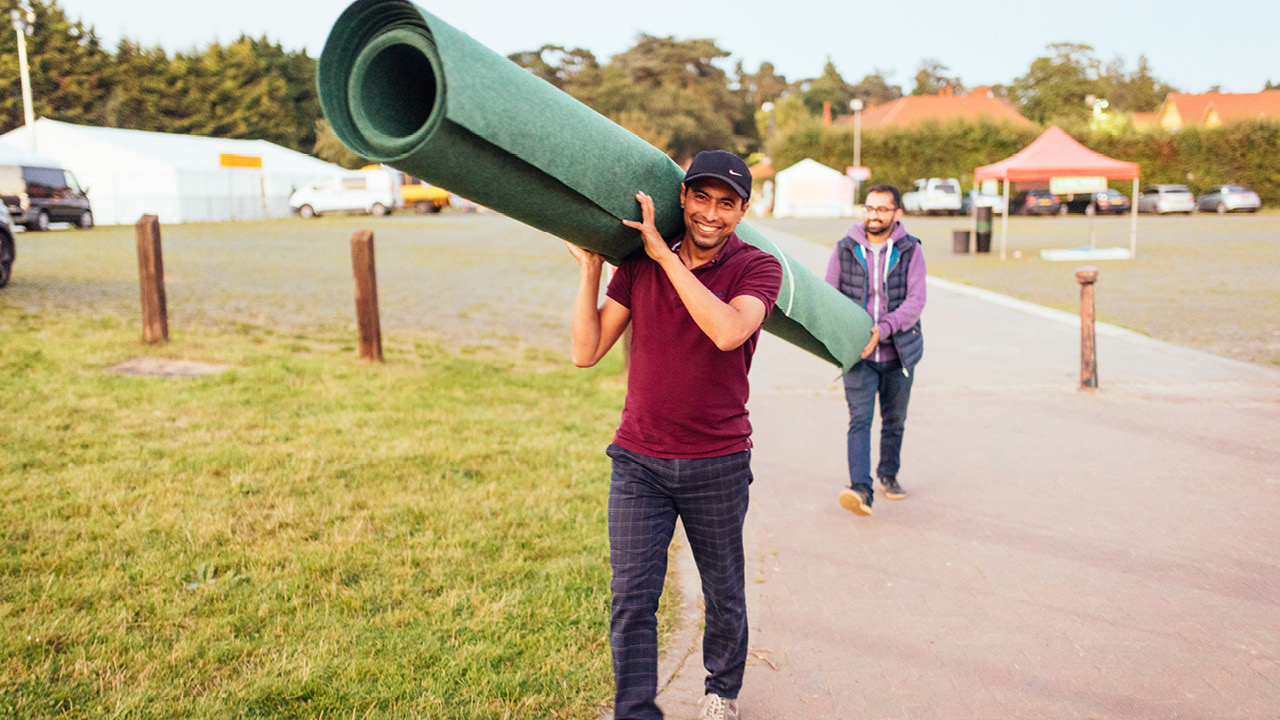 Volunteering is a great way to get involved and be part of the community. You will pick up on some amazing skills, it will look great on your resume and we will get the help we need to make sure that we keep providing the spiritual inspiration that our visitors need. Plus, you will benefit from being part of our spiritual community groups and make lifelong friends.
Sacred Food
Preparing karma-free vegetarian food is a devotional focal point in bhakti-yoga. By preparing pure, natural vegetarian food and then offering it to God in a spirit of devotion, we turn a daily necessity into an enlightening experience. 'Offered' food, called prasadam, is considered to be 'the mercy of the Lord' that nourishes the body and transforms the consciousness.
Manor Farming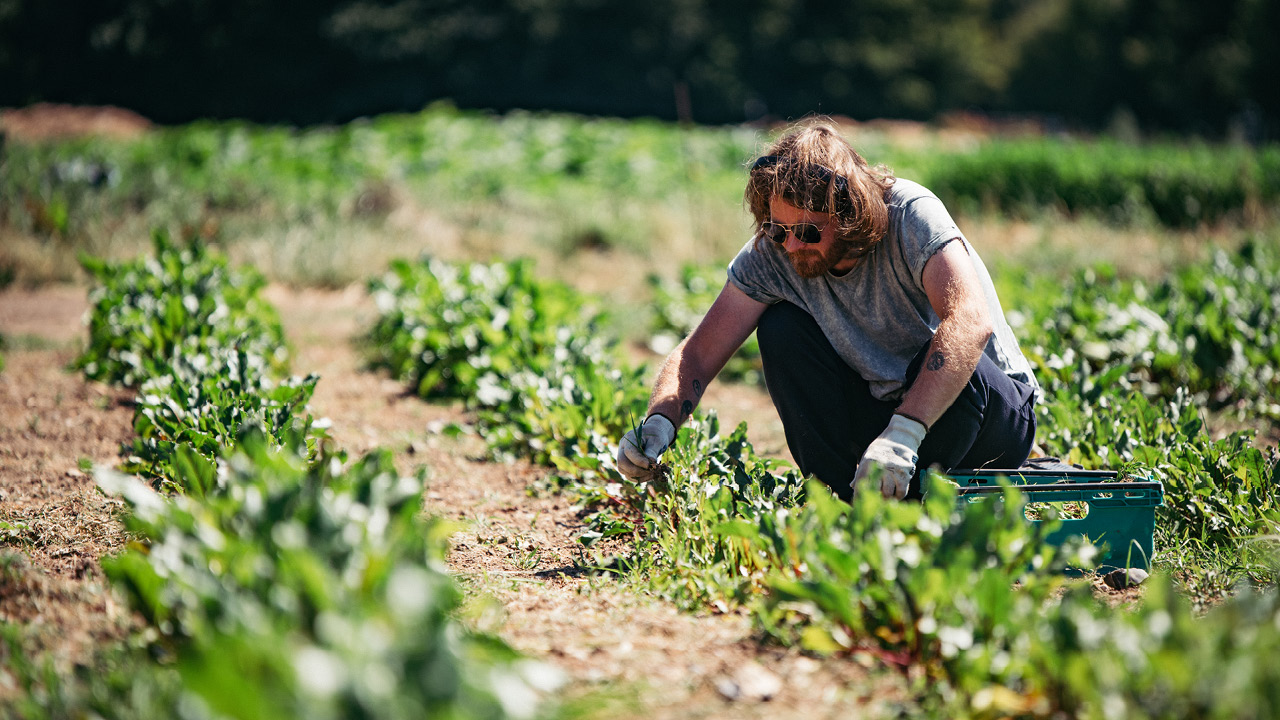 New Gokul is a fresh approach to farming in the modern world. The Sanskrit word 'Goshala' indicates a place where cows are sheltered and protected throughout their life. We have a mixed herd of 62 animals, some of whom give milk, some who are working oxen, and some who are retired or in their childhood. In the vast land beyond the Goshala, the Manor is developing its farming. At the west of the property lies 9 acres of production land for vegetables and fruits. This land is cultivated as naturally as possible, without pesticides or herbicides. The land is ploughed using our strong oxen and Amish ploughs, and teams of volunteers fertilise the fields with manure from our cows.
Manor Outreach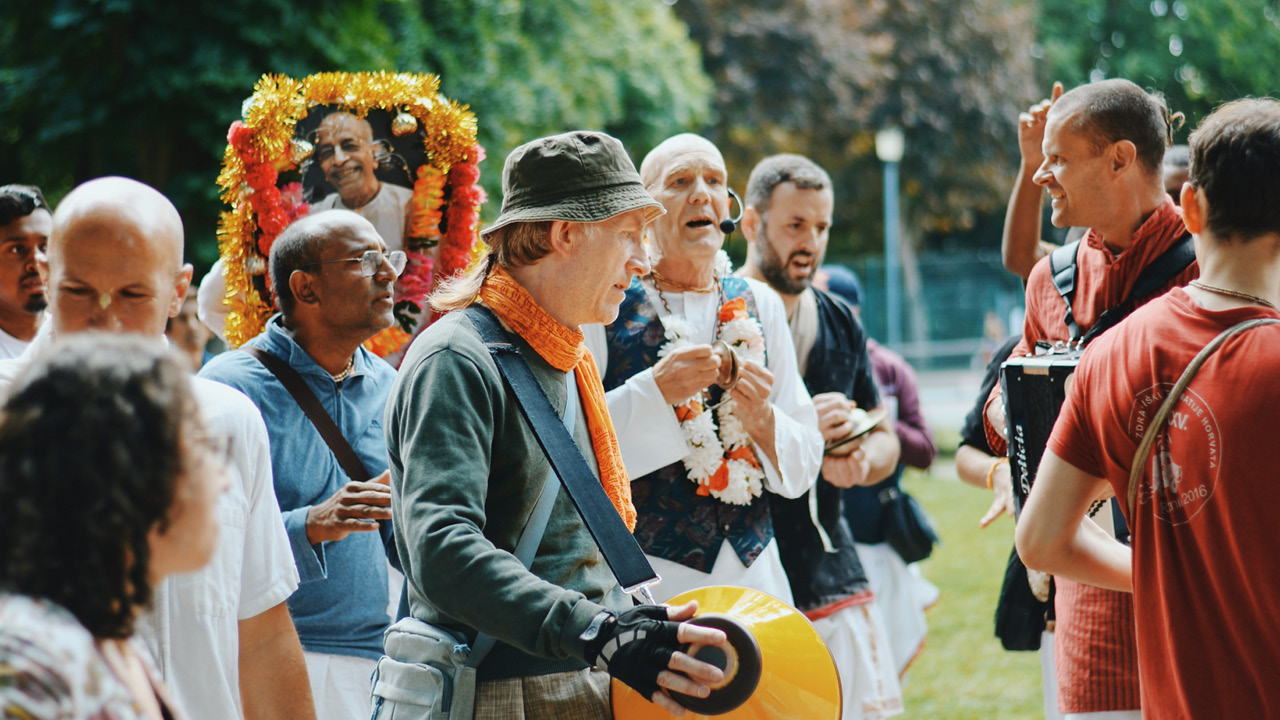 Ancient scriptures are not disconnected from our modern day social context; the teachings provide spiritual solutions for every prevailing issue of the day. The political, economic and social issues we witness are essentially caused by a neglect of spiritual values. Thus, devotees of Krishna, in a spirit of compassion, reach out to the world at large to share spirituality.
Daily Worship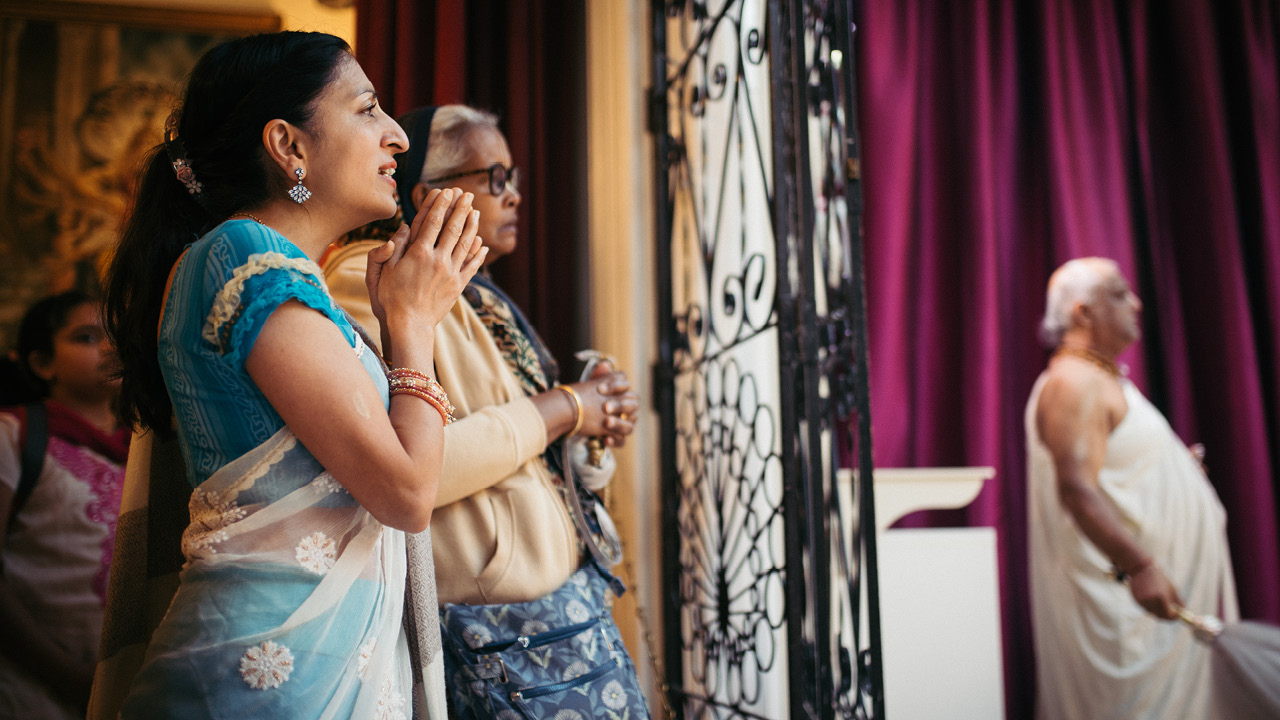 At Bhaktivedanta Manor, from early morning till night, there is a structured program that is entirely based on Sri Krishna's daily schedule as per the Vedic scriptures. Come into the temple, absorb everything and take your time! Look to the right and you will see the transcendentally poised, noble murti of Srila Prabhupada, the spiritual master. Pay obeisances to him, your consciousness will be elevated.
In this state, turn to the other side and you will see the beautiful and ornate deities of Their Lordships, Sri Sri Radha Gokulananda (Radha and Krishna), Sri Sri Sita Ram, Laxman, Hanuman and Sri Sri Gaura Nitai!