Shraddha
September 29

-

October 14

Free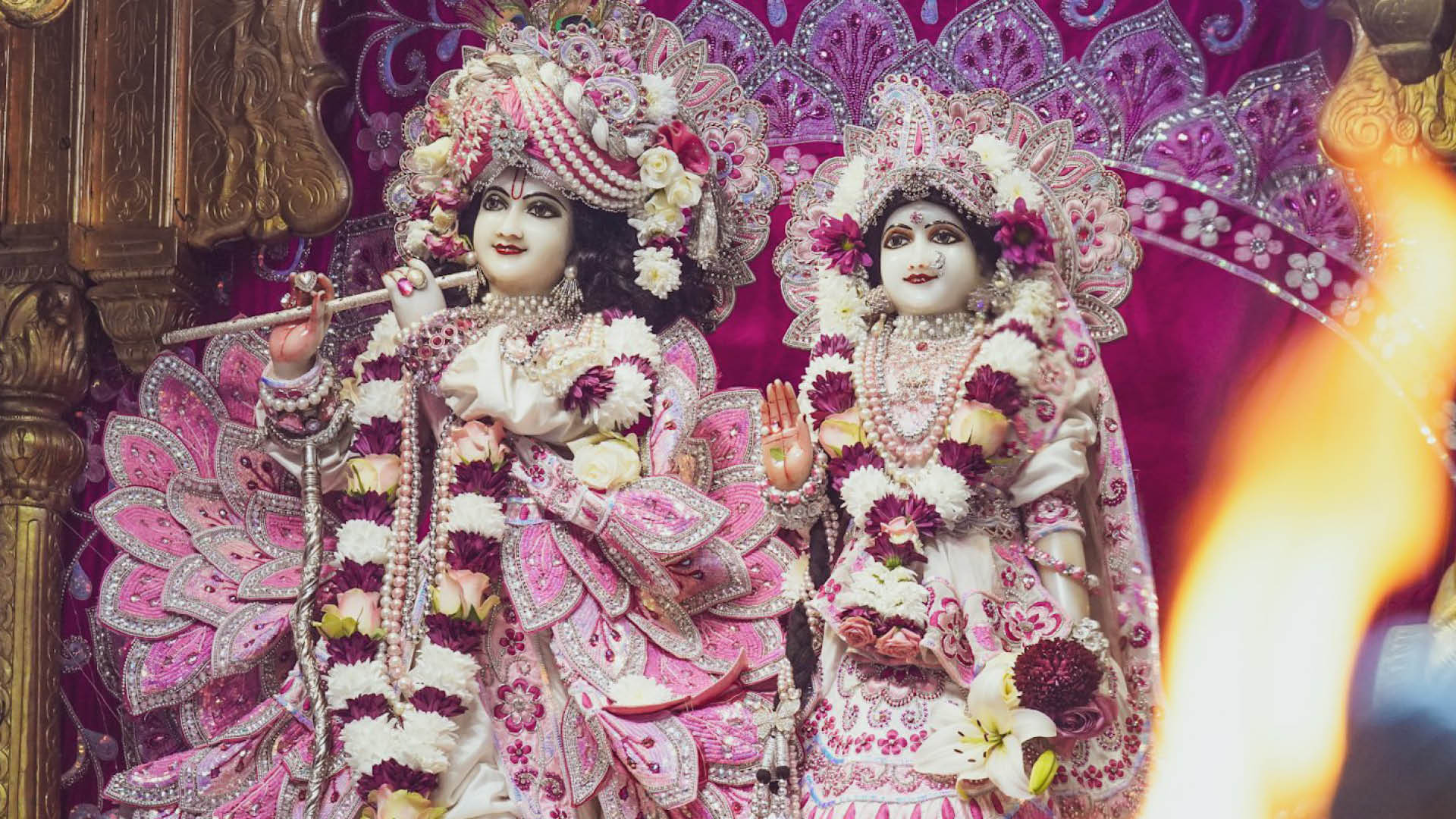 29 Sep – 14 Oct

Shraddha is a time for expressing our love and gratitude to our departed family members by making offerings to help them on their onward journey.
Shraddha lasts for one fortnight from the beginning of the lunar month of Ashwin, which this years falls from the 29 September until the 14 October inclusive.
Ceremony at Bhaktivedanta Manor
There will be daily Shraddha ceremonies at the temple.
The ceremony will be led by a priest consisting of
Sankalpa, Pitri Tarpana (offering of Water to ancestors ) & Go Puja / feeding of the cows.
Please book in advance so we can make sure that we have enough facilities.
Book for – Purnima Shraddha Puja on Sep 29, 11:30 AM
Book for – Pratipad Shraddha Puja on Sep 30, 11:30 AM
Book for – Dwitiya Shraddha Puja on Oct 01, 2:00 PM
Book for – Trititya Shraddha Puja on Oct 02, 5:30 PM
Book for – Chaturthi Shraddha Puja on Oct 03, 5:30 PM
Book for – Panchami Shraddha Puja on Oct 04, 5:30 PM
Book for – Sasthi Shraddha Puja on Oct 05, 5:30 PM
Book for – Saptami Shraddha Puja on Oct 06, 5:30 PM
Book for – Astami Shraddha Puja on Oct 07, 11:30 AM
Book for – Navami Shraddha Puja on Oct 08, 11:30 AM
Book for – Dasami Shraddha Puja on Oct 09, 5:30 PM
Ekadasi – We dont do Shraddha Puja on Ekadasi (if your shraddha falls on this day please book last day of puja)
Book for – Dvadasi Shraddha Puja on Oct 11, 5:30 PM
Book for – Trayodasi Shraddha Puja on Oct 12, 5:30 PM
Book for – Chaturdasi Shraddha Puja on Oct 13, 5:30 PM
Book for – Sarva Pitru Amavasya Shraddha Puja –  Oct 14, 4:30 PM
If you have any queries, contact us at bmf@krishnatemple.com or phone 01923 851008.
If you are not sure of the day that shraddha should be performed for your family member you can come on the last day, which is known as Sarva Pitru Amavasya.
Please book in advance so we can make sure that we have enough facilities.
Food Items you can donate for Shraddha
Atta/Flour – Elephant Atta Medium
Ghee (cow ghee)
Rice (basmati)
Dal – mung Dal, toor Dal,
Oils – sunflower oil, olive oil,
Spices – Jeera (cumin), mustard, sesame seeds, Black pepper,
Nuts – Cashew, Almonds, Peanuts
Dried Fruits
About Śrāddha at Bhaktivedanta Manor 
Ceremony at Bhaktivedanta Manor
Sankalpa
Pitri Tarpana ( offering of Water to ancestors )
Go Puja / feeding of the Cows
What you need to bring
Kalash (water pot) medium size (700ml)
Bowl (wide mouth with capacity of 2 litres)
Upto 2 litres of water (bottled)
1 bunch of flowers (white and yellow only)
A mat / blanket to sit on
A self standing framed picture (size A4/A5) of the departed family member(s) we are offering puja for
Please remember the full names of all the departed souls you will be offering sraddha and up to three generations of your family members
About śrāddha from Srila Prabhupada
Sri Caitanya Mahaprabhu went to Gaya to offer respectful oblations to His forefathers. This process is called pinda-dana. In Vedic society, after the death of a relative, especially one's father or mother, one must go to Gaya and there offer oblations to the lotus feet of Lord
Vishnu. Therefore hundreds and thousands of men gather daily to offer such oblations, or sraddha. Following this principle, Lord Caitanya Mahaprabhu also went there to offer pinda to His dead father. (Sri Caitanya-caritamrta, Adi 17.8, Purport)
After death according to Vedic regulations, pinda-udaka, pinda, offering Vishnu prasada and water at least once in a year, it is required by the family members. And according to Vedic culture, there is one month fixed up in a year when all people will offer pinda and udaka to the forefathers. (Lecture, London, July 29, 1973)
Importance and need of performing śrāddha
In Srimad Bhagavatam Lord Sri Narasimha Himself recommends performing of Shraddha ceremony by His devotee Prahlada after delivering Hiranyakashipu.
kuru tvaṁ preta-kṛ tyāni pituḥ pūtasya sarvaśaḥ
Mad-aṅ ga-sparśanenāṅ ga lokān yāsyati suprajāḥ
My dear child, your father has already been purified just by the touch of My body at the time of his death. Nonetheless, the duty of a son is to perform the śrāddha ritualistic ceremony after his father's death so that his father may be promoted to a planetary system where he may become a good citizen and devotee. (SB 7.10.22)
Objectives of performing śrāddha
…What is putra pinda? Caitanya Mahaprabhu also showed us the example. He went to Gaya Pradesh to offer pinda for His forefathers. This is necessary still… There are many practical cases that one's father or mother became a ghost after death, and after offering oblations at the lotus feet of Vishnu at Gaya, he was delivered. There are many cases. So, actual fact is Vishnu worship. That is the ultimate goal of Vedic civilization, but they do not know. (Srila Prabhupada lecture, Surat, January 3, 1971)
Prayers and types of the śrāddha ritual
The best process for the śrāddha ceremony is to distribute bhāgavata-prasāda (remnants of food that has first been offered to Kṛṣṇa) to all of one's forefathers and relatives. This makes a first-class śrāddha ceremony. (SB 7.15 summary)
There are three kinds of ceremonies — specifically, ceremonies to please the Supreme Personality of Godhead or the demigods, those performed for social celebrations like marriages and birthdays, and those meant to please the forefathers, like the śrāddha ceremony. In all these ceremonies, large amounts of money are spent for various activities, but here it is suggested that if along with this there is recitation of the wonderful activities of Vāmanadeva, certainly the ceremony will be carried out successfully and will be free of all discrepancies. (SB 8.23.31 purport)
The effects of the śrāddha ritual
There is a hell which is called pun. So from that hellish condition, one who delivers, trāyate iti tra, therefore he is called putra. This is… Every Sanskrit word has got meaning, root meaning. Putra. Putra-piṇḍa-prayojanam. Putra is required. Why? After death, if by chance the father does not get ordinary life or goes to the hellish condition of life, the son will deliver. Therefore śrāddha ceremony. There is śrāddha… What is that śrāddha ceremony? Śrāddha ceremony means to offer foodstuff to Viṣṇu, and with the prasādam, to the forefathers or father it is offered, so that by eating prasādam, if he is in ghost life or in hellish life, he'll be delivered. This is called śrāddha. (Srila Prabhupada lecture Vrindavan, SB 1.5.24, August 5, 1974,)
Who can perform śrāddha
Sanatan Dharma that does not give any cause for excuse for not performing śrāddha due to the absence of a particular person. Son, daughter, grandson, great grandson, wife, daughter's son, brother, nephew, cousin's son, father, mother, daughter-in-law, son of elderly and younger sisters, maternal uncle, anyone in the seven generations and from the same lineage (sapiṇḍa), anyone after the seven generations and belonging to the same family domain (samanodak), disciple, priests (upadhyay), friend, son-in-law of the deceased can perform Śrāddha in that order. In case of a joint family, the eldest and earning male should perform Śrāddha. In the case of the unit family, everyone should perform śrāddha independently.
Sanatan Dharma has made arrangements so that for each and every dead person śrāddha can be performed so as to give momentum to that person to progress to a higher sub-plane. Dharma Sindhu mentions that: 'If a particular dead person does not have any relative or a close person, then it is the duty of the king to perform Śrāddha for that person. Normally every year Śrāddha should be performed on the date of death of the person (the Vaishnava calendar and not as per the Western calendar).
Considering the complexity in pronouncing certain Sanskrit words and limitation to understand the rites mentioned in the science, it may not be possible for everyone to perform the ritual as prescribed, by themselves. In such cases one can get the ritual performed through priests and if they are not available, then the ritual can be performed with the help of knowledgeable people.
If the date is not known and only the month is known, then in that case śrāddha can be performed on the last day of Śrāddha period.
Frequently asked questions
Yes. Free parking will be available all day.
Address
Bhaktivedanta Manor
Hilfield Lane
Watford
Sat-Nav: WD25 8HE
Note: Entrance to temple is via Hilfield Lane only. There is no entrance to the temple through Letchmore Heath village. For driving, use approximate driving postcode WD25 8HE and follow road signs. Do not use WD25 8EZ, as this will lead you to a nearby village.
For Public Transport & Map, please CLICK HERE