Gita Jayanti Yajna – Bhagavad-gita Recitation
December 31, 2022 @ 8:30 am

-

2:00 pm

Free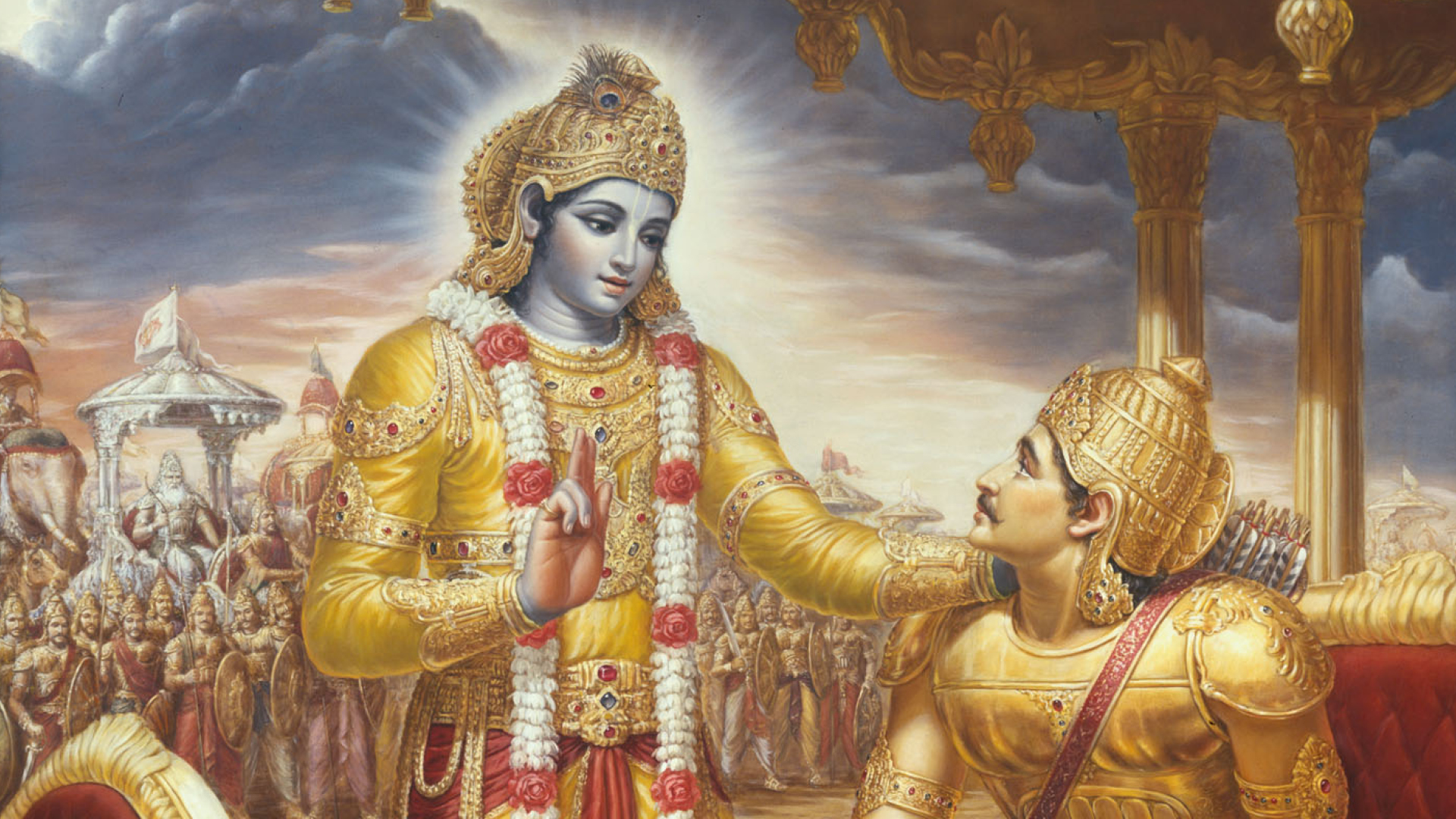 Saturday 31 December 2022
Conclude 2022 with a spiritual recharge, ready for 2023!
Join us for the immersive recitation of the entire Bhagavad-gita
Gita Jayanti includes:
 – Recitation of the Gita
 – Summaries of the Chapters by S.B. Keshava Swami
 – Fire yajna (Havan)
 – Your sponsored family name displayed
 – Your copy of the Gita offered
To participate, we invite you to sponsor Bhagavad-gita's, for the spiritual benefit of society
Schedule
Doors: 8am
Recitation: 8:30am
Breaks every 6 chapters
Recitation Ends / Lunch: 2pm
About the Bhagavad-Gita
Bhagavad Gita is organised into 18 chapters and contains 700 verses. The Gita can also be divided into three sections (6 chapters each):
Section 1: Karma Yoga
Section 2: Bhakti Yoga
Section 3: Jnana Yoga
The word "yoga" is nowadays associated with stretching postures and exercises, yet its true meaning is "the process of linking". Specifically, it refers to the process of linking our activities to the Supreme Person, God.
The daily reading of Bhagavad Gita together with chanting the Hare Krishna mantra can bring about rapid spiritual advancement for any person.
Out of numerous translations of the Gita, "Bhagavad Gita As It Is" shines foremost as it brings to bear the purity and competence of its author and offers answers carefully preserved by a chain of teachers which can be traced back to Lord Sri Krishna.
"Bhagavad Gita As It Is" consists of Sanskrit verses together with translations and purports by His Divine Grace A.C. Bhaktivedanta Swami Prabhupada. Within the pages of the Gita, the workings of karma, reincarnation and yoga are to be found, as instructed by Lord Krishna to Arjuna.
We invite you to explore this marvellous work.
Refresh your soul in the company of senior vaishnavas. The entire 700 verses of the Gita will be recited, and chapter summaries will be presented. A fire yajna will be conducted throughout the recitation.
Gita Jayanti offers the opportunity to celebrate the appearance of Bhagavad Gita and to distribute this gem to many others. You are invited to sponsor Bhagavad Gitas and distribute them to your friends, family and colleagues. Alternatively the Temple on your behalf will place them in schools, universities, hospitals or prisons through its various programmes.
The Bhagavad Gita is a transcendental dialogue between Lord Sri Krishna and His devotee Arjuna. Spoken at the outset of a great battle, it is an encyclopedia for humanity.
In contrast to the atheistic scientist's purely physical (and hence incomplete) description of everything, Bhagavad Gita makes a distinction between the spiritual self and the material body.
The mind, intelligence and senses are discussed in terms of their strengths and limitations, and guidelines are given for their intended use.
Frequently asked questions
No ticket is required. We ask everyone to sponsor Bhagavad-gita's to participate.
Yes. Free parking will be available all day.
Address Bhaktivedanta Manor Hilfield Lane Watford Sat-Nav: WD25 8HE
Note: Entrance to temple is via Hilfield Lane only. There is no entrance to the temple through Letchmore Heath village. For driving, use approximate driving postcode WD25 8HE and follow road signs. Do not use WD25 8EZ, as this will lead you to a nearby village.
For Public Transport & Map, please CLICK HERE