One year after the RSPCA killed the cow Gangotri here at Bhaktivedanta Manor, we can happily announce a resolution to the Justice for Gangotri campaign. For the full story and outcomes of the campaign, please visit www.justiceforgangotri.org.
Latest Press Release:
RSPCA Donated cow gives birth at temple
On 19th February 2009, amidst tears of joy, priests, farmers
and congregational members witnessed the birth of a healthy female calf.
This was no ordinary calf, but a symbol of reconciliation and a new era
between the RSPCA and Vaishnava communities across Britain.
Gangotri, a cow dearly loved by everyone was killed by the RSPCA at
Bhaktivedanta Manor's farm in December 2007. This deeply offended the entire
ISKCON community and a campaign was launched. The 'Gangotri Task Force'
worked with DEFRA, politicians and legal experts in order to raise awareness
of why all life is so sacred to all devotees. Last December the RSPCA
apologised unreservedly and indicated its wish to build a progressive
relationship. Welcoming their gesture, the community hopes the RSPCA will
sign a protocol which will protect future cows.
The calf's mother, Aditi, was a gift to the temple by the RSPCA and the
birth brings good tidings to Bhaktivedanta Manor Krishna Temple. The new
calf has also been named 'Gangotri', a name that is steeped in Vedic
theosophy and history. She is residing in New Gokul, the largest Cow
Protection Centre in Europe which is due to be complete this August.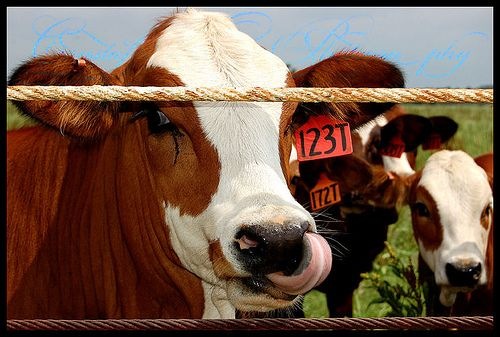 Kapil Dudakia, the chair of the Gangotri Task Force said, "The whole
community is ecstatic with this tremendous news. Only last month we saw the
arrival of Aditi to the Temple in all her splendour and today the birth of
Gangotri has brought in an auspicious era for all our diverse communities to
celebrate life and a new beginning together."
Srutidharma das, the present Chairman of Bhaktivedanta Manor, said "the
community at Bhaktivedanta Manor is celebrating the arrival of the new calf
and it is a great beginning to the year."
Stuart Coyle, the Farm Manager of New Gokul heard of the news whilst
travelling in India. He said, "I am over whelmed with the news. I can't
wait to get back to England and see the new arrival."