On Monday 14 August at 6.45pm, on the eve of Sri Krishna Janmastami, Mother Kulangana passed away surrounded by devotees chanting the names of Krishna. Devotees gathered to offer their final respects with offering garlands, flower petals and prayers.
She was a very senior member of the community and was loved and respected by everyone.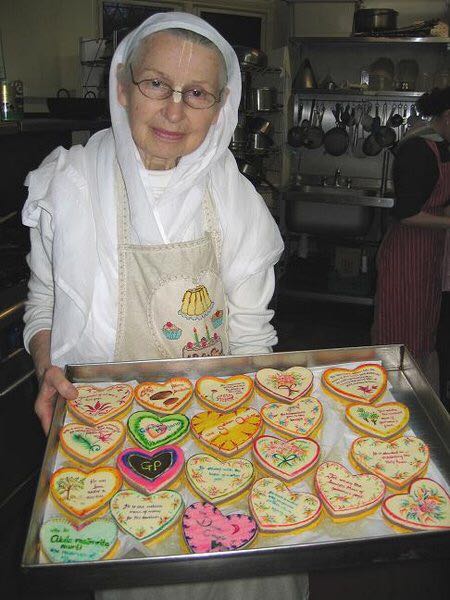 The life of Mother Kulangana:
Born in 1932 in Poland as Krystyna, Mother Kulangana was raised in a well-respected family. Growing up in war-torn Warsaw, she witnessed many atrocities and experienced many traumatic incidents, such as being separated from her mother as a young girl.
She was a lover of animals and often missed class to play with the animals on her farm. Despite her missing a few classes, she still excelled in her studies and qualified as a Physiotherapist.
After a successful career in both Poland and France, she moved to England for a new post in North London. Shortly after this, on a shopping trip in London, she came face-to-face with the harinam party, and was so enticed by the smiling and happy chanting that she followed the devotees all the way to the temple.
After several visits, she found herself drawn to the devotees' way of life. She loved the singing, the philosophy, the camaraderie and the food. She joined the small temple community in Bury Place, became a full-time resident devotee, and soon after received initiation from her spiritual master, His Divine Grave Srila Prabhupada. She took to the early morning routines with full enthusiasm, and soon became adept at distributing books in the busy streets of London.
Mother Kulangana had a special affinity for milk products from childhood as a result of keeping cows on her family farm. Thus, she was naturally attracted to cooking the milk sweets the devotees offered to Krishna every day. She quickly became an expert cook, mastering the various recipes, skills and techniques required for milk sweet making. Another gift which gave Mother Kulangana no end of pleasure, was painting the sweets with food colouring. Her artistic depictions of Krishna's pastimes and the various scenes of Vrindavan, indicated the spiritual vision that Mother Kulangana was imbued with. Her creative portrayals never failed to please and inspire anyone who saw them.
She resided at Bhaktivedanta Manor for twenty-seven years, during which time she prepared thousands of sweets for her beloved Lordships Sri Sri Radha Gokulananda, Sri Sri Sita Rama Laksman Hanuman, and Sri Sri Gaura Nitai. Mother Kulangana inspired a new generation of sweet makers, passing on her techniques and recipes so that young devotees could continue her legacy of milk-sweet making. Beautifully painted sweets have become the very symbol of the Manor, and a sought after spiritual delicacy.
Mother Kulangana was always known as a kind and gentle soul with a nature as sweet as her service. She will be missed by so many – the majority of the community cannot even recall a time when she was not present in their lives. Although she leaves this world behind, her legacy lives on. And in every soft mangal arati sweet the devotees of Bhaktivedanta Manor offer to Sri Sri Radha Gokulanada, there will reside the memory of Mother Kulangana's soft and sweet devotion.
Mother Kulangana's life will remain an inspiration for generations to come. Her dedication to Srila Prabhupada set the highest example. Day and night she read Srila Prabhupada's books and listened to his lectures. In her departure she only wanted to listen to his chanting. She taught us how to overcome adversity, how to become absorbed in devotional service, how to maintain complete chastity and enthusiasm in our spirituality, and most of all, how to dedicate one's mind, body and words in the service of the Lord.