British Prime Minister Mr Rishi Sunak celebrated Diwali in his home at 10 Downing Street, along with his wife Akshata and dozens of invited guests. From ISKCON's Bhaktivedanta Manor, temple president Visakha Dasi attended along with Sachi-Kishore Das and Krishna Sanjay Das, members of the Manor's communication team.
Just prior to his entering the packed room where guests had congregated, Mr. Sunak greeted temple leaders and on seeing Visakha Dasi, said, "So this is your fiftieth anniversary at Bhaktivedanta Manor. Congratulations!"
Then he and his wife entered the room with guests and listened attentively as students from Avanti School in unison recited the Sanskrit prayer "Om ajnana timirandasya…" as well as the English translation.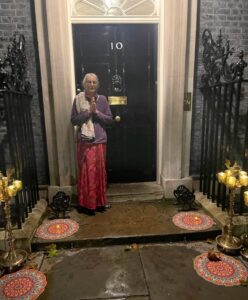 As the Prime Minister started his talk to the assembled guests he thanked the Avanti students, thanked everyone present for coming and then said, "Bhaktivedanta Manor is celebrating their fifth anniversary this year and Visakha Dasi is with us tonight", and paused for the clapping. Continuing his short talk, he remembered that one year before he'd also observed Diwali at Number 10 just after becoming Prime Minister. He expressed gratitude for all the services the guests do for the public throughout the UK and beyond.