In the run-up to the momentous occasion of the coronation of King Charles III, Bhaktivedanta Manor hosted a 'pre-coronation tea' for faith leaders on Tuesday 2nd May.
The event was attended by over 30 religious organisations from Hertfordshire, who collectively represented a dozen faiths. Bhaktivedanta Manor this year celebrates its 50th anniversary — it was 50 years ago that George Harrison of the Beatles kindly donated the temple to our community.
Robert Voss the Lord Lieutenant of Hertfordshire said that "faith is a central part of the King's priorities and Hertfordshire's diversity is something to celebrate. Hosting this tea will bring faith leaders together to form strong links to bring about change in our community"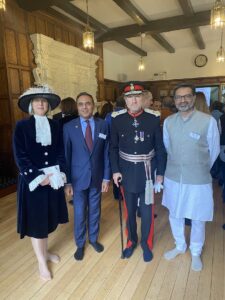 President of Bhaktivedanta Manor Her Grace Visakha Dasi added "We are grateful to have the privilege of hosting this interfaith event at Bhaktivedanta Manor.  Cooperation and collaboration between our many and diverse spiritual communities will be strongest when there's positive communication between us."
Vinay Tanna, Head of Manor Communications and a Deputy Lieutenant said in his welcoming speech to the faith leaders that "coming to a spiritual place like this; walking around the gardens and lake or feeding the cows, is about strengthening one's own faith"
Lady Verulam who is the Chair of the Hertfordshire Lieutenancy interfaith panel said  "It is hoped that such a gathering of faith leaders has a special role to play, in fulfilling the vision of the King."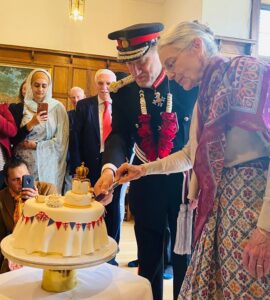 The event culminated in a cutting of a royal cake by Her Grace Vishaka Devi and the Lord Lieutenant, with the ceremonial sword.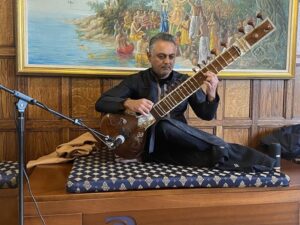 –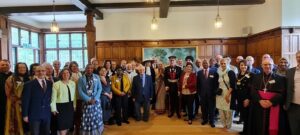 –