Appearance of Sri Nrisimhadeva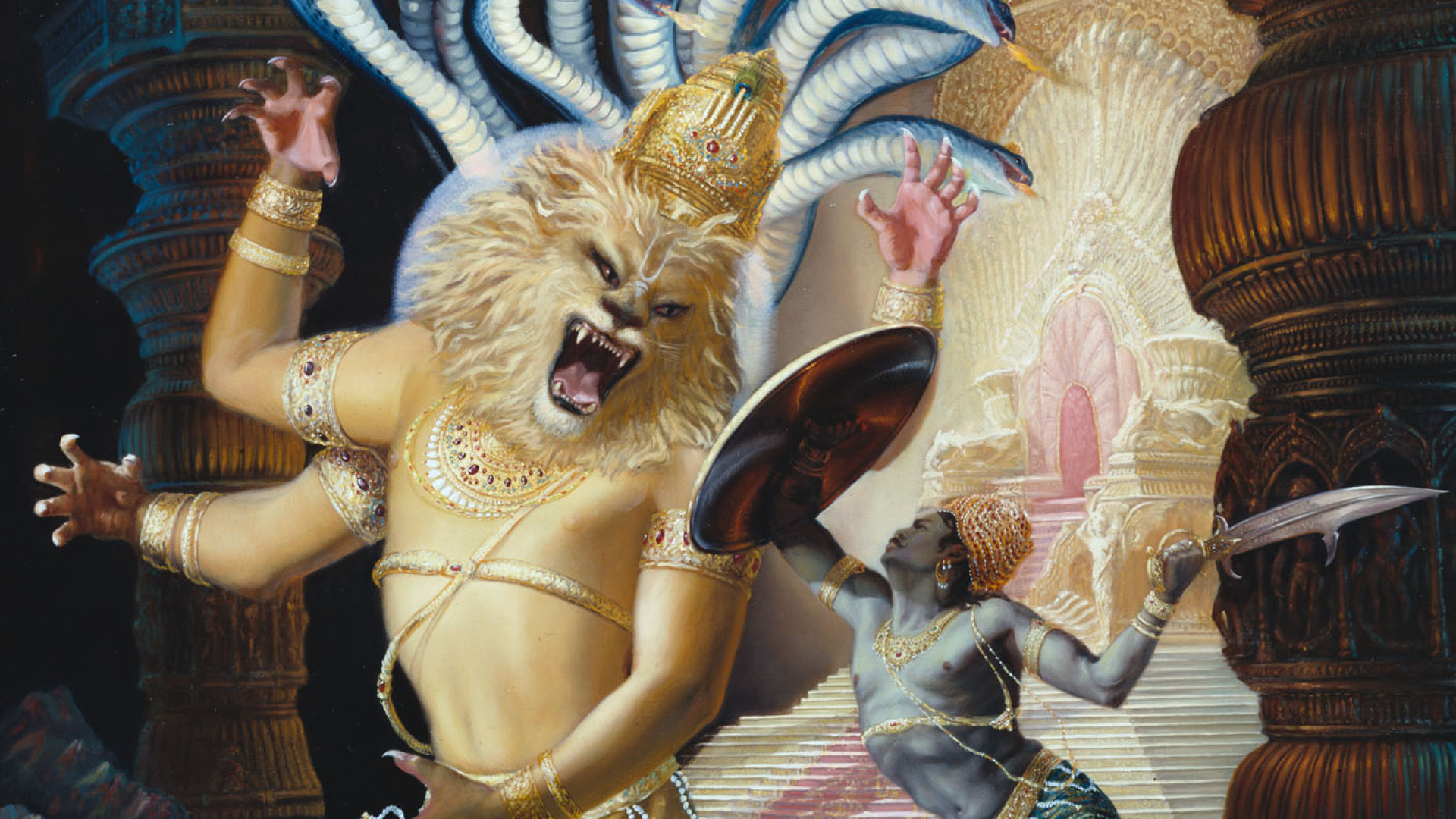 Thursday 4 May 2023
Sri Nrisimhadeva is Lord Krishna's incarnation as half-man, half-lion. He is glorified, described and explained in the Vaisnava scripture Srimad Bhagavatam. Devotees pray to this form of the Lord for protection, not only from physical threats but also from the selfish attachments in our own hearts. 
Lord Nrisimhadeva came to protect his great devotee, Prahlada Maharaja, who constantly prayed to Lord Krishna despite being tortured by his father, Hiranyakashipu. Nrsimhadeva outwitted the demon Hiranyakashipu, who thought that he had been blessed to never die under any circumstance.
Nrisimha Caturdasi, the appearance of Sri Nrisimhadeva is a day to pray for protection and celebrate His glories.
Schedule

Morning Program in Temple Room
4:30am – Mangal Arati
7am – Guru Puja
7.30am – Deity darshan
7:45am – Harinama to Sri Krishna Haveli with Srila Prabhupada and Gaura Nitai Deities
Program in Sri Krishna Haveli
8am – Words of welcome by Visakha Dasi
8:10 am – Drama by Junior Bhaktivedanta Players
8:30am – Songs glorifying Lord Nrisimhadeva by the Gurukula Kids
8:50am – Class by Atmanivedana Swami
10am – Narasimha Kavach Yajna
11:30am – Local Harinam
Evening program in Sri Krishna Haveli
4pm – Welcome by Visakha Dasi and Kirtan
4.15pm – Drama by Bhaktivedanta Players
5pm – Abhishek of Nrisimhadeva
6pm – Feast
Frequently asked questions
Yes. Free parking will be available all day.
The best way  to get to the Manor is to drive. If you are using google maps, search for 'Bhaktivedanta Manor, Watford' and follow directions. If you are using a SatNav, use approximate driving postcode WD25 8HE and follow road signs to 'Hare Krishna Temple'. Do not use WD25 8EZ on your SatNav, as this will lead you to Letchmore Heath village through which there is no access to the Temple. The only entrance to temple is via Hilfield Lane.
Address
Bhaktivedanta Manor
Hilfield Lane
Watford
Sat-Nav: WD25 8HE
For Public Transport & Map, please click the link below
Thank you for thinking of donating! Please click the link below to donate