The management of Bhaktivedanta Manor are extremely grateful to everyone who gives up so much of their free-time to volunteer at Bhaktivedanta Manor. Whatever the service, whenever it is, their efforts are crucial to the running of such a huge devotional project. That especially applies to Janmashtami and other large festivals, for without a strong volunteering base, such wonderful events would not be possible.
The Volunteers Care Council (VCC) is headed up by Krsnapurna dasi and her committed team and saying that their efforts are 'remarkable' is an understatement!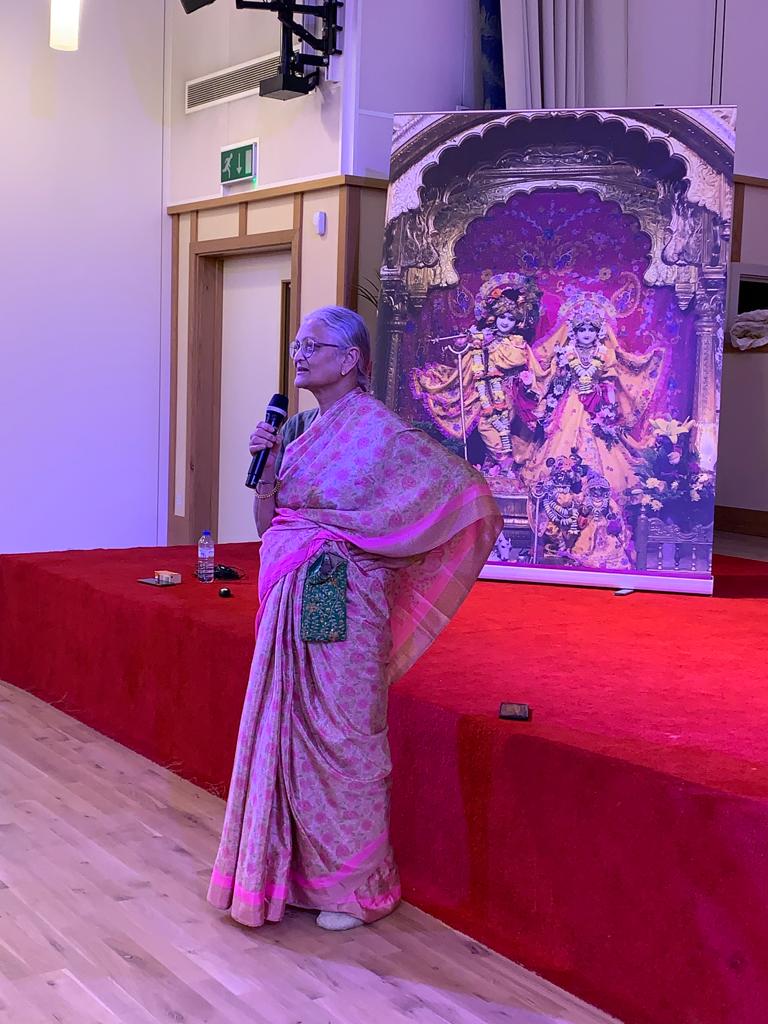 Krishna Purna dasi
Previously, the annual volunteers Thank You evenings were single events held in an external venue. However, the presence of the new Haveli enabled there to be three separate events on site, which were individually smaller but more personal and interactive.
There was one for those who volunteered to perform vital services throughout the lockdown period, one for the Janmashtami volunteers and the final one for festival team leaders.
–
Following words of praise and encouragement by Temple President Visakha dasi, there was devotional entertainment such as children's dramas, workshops, appraisals, kirtan and dance, and always rounding off with a delicious meal!
–
Other prominent speakers included Sutapa das, Vaishnava das and of course Krsnapurna dasi who worked tirelessly for many years to be the backbone of such a vital aspect of the community.
Jyoti Joshi is committed and regular volunteer who also helped with the darshan queuing system throughout the pandemic period. She explained:
"I feel through my service it gives me an opportunity to feel closer to Krishna. For me the service of helping to keep the temple open over the pandemic period, so people could have darshan, was really important. Especially when people were losing their loved ones to Covid. Coming to the temple would have provided them some comfort and solace. I wanted to contribute in whatever way I could to facilitate that need. It also provided myself an opportunity to get out a little to meet people during the difficult lockdown months, in a safe way."