In honour of the Temple's 50th anniversary, from early this year Bhaktivedanta Manor's harinama procession team made a special effort to share the Holy Names far and wide.
Between July 28th and September 9th,  the team managed to chant, sing and dance along the streets of  more than 50 towns and villages, which had never been visited before. From Bovington to Boxmoor, and from Hazelmere to Hockliffe it was a magnificent achievement! The most distant location from the Manor was Flackwell Heath near High Wycombe.
"Many shop keepers in the villages were delighted to see us , and many took photographs of the harinama party outside their shops, " reported one devotee participant. "And the unsuspecting residents of a village in Buckinghamshire were soon to be caught up in the sankirtana movement.
"Some villagers there welcomed us with bright smiles , and others kept their eyes firmly away, without offering a cursory glance. Nevertheless, the chanting of Hare Krishna entered their ears!"
"A special thanks goes to Ananta Purushottma prabhu, who organised and managed everything," exclaimed senior harinama team member Sukadev Das.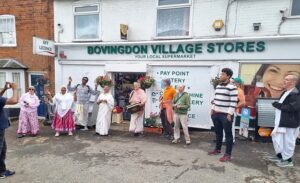 "…The chanting of the holy name of the Lord is able to uproot even the reactions of the greatest sins. Therefore the chanting of the saṅkīrtana movement is the most auspicious activity in the entire universe. Please try to understand this so that others will take it seriously". (Śrīmad-Bhāgavatam 6.3.31)
Srila Prabhupada: "Caitanya Mahaprabhu wanted that every village, and every town on the surface of the globe should at least hear Hare Krishna maha-mantra…."
4th April 1976