Devotees from across the UK descended on Liverpool, the city of George's birthplace for a series of special events aptly titled 'The Spiritual Beatle', celebrating his spiritual journey.
Gurudas, one of the ISKCON UK's pioneers, who first met George Harrison in 1968 came especially for the celebration.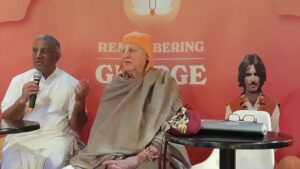 Events included a music-mantra tribute at the Liverpool Philharmonic Hall, hari nāma processions across the city centre, panel discussions and interviews at the two Beatles museums, including a drum workshop at the fabled Fab4 Café.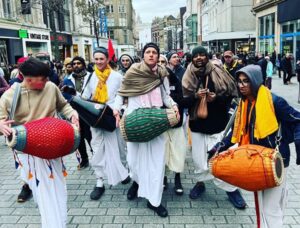 There were 2000 cookies and over 2000 books distributed at the various events. Devotees, on particular Gurudas, Sakshi Gopal das, Sri Pati das, Pradyumna das shared their memories and realizations about George Harrison's invaluable contribution to ISKCON in its early days, and highlighted how exactly 50 years ago in 1973, he generously donated Bhaktivedanta Manor.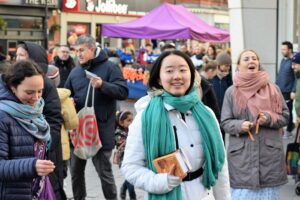 The Mayor of Liverpool, Joanne Anderson was presented with copies of the Srimad Bhagavatam and Bhagavad-Gita, by Gurudas at Liverpool's Central Library.
Mayor Joanne said: "On the eve of what would have been George's 80th birthday it is fitting that we are celebrating his life in his home city. We are incredibly proud of what he and the rest of the band achieved, and we celebrate their music – which still resonates across the world today."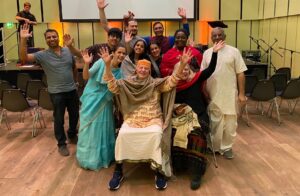 "It turned out to be the highlight of my year" explained Denise O'Dwyer regarding her experience in Liverpool with the devotees.
"…to listen to the stories of those who knew and worshipped with him was profound and moving" added Esther Nagle, who has travelled to the city from Wales.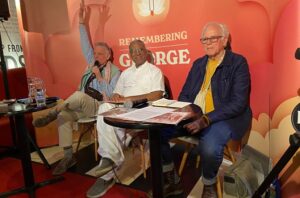 The logistics for the four-day period the devotees were in Liverpool was organised by the Manor's Haveli Manager, Ajay Kumar.