Recently staff and residents of Bhaktivedanta Manor came together to celebrate the 30th Anniversary of ISKCON Educational Services (IES). IES offers educational services to teachers and students from 4 to 24 years old on Hinduism, including Vaishnavism.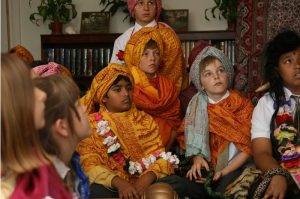 Established in 1989 by Rasamandala das, IES soon became very popular among teachers for its educational and interactive workshops. Then in 1991 Indriyesha das joined this important and responsible service.
Then the department developed it into what it is today: A stable department of 6 devotees that offers:
1. Day visits to Bhaktivedanta Manor to experience a living temple.
2. In-school presentations to bring the Temple to students with insightful workshops.
3. Help Training Teachers (ITT and INSET).
4. Publishing and Distributing Resources (Books and Artefacts).
5. Professional Guidance (RE-affiliated and governmental bodies)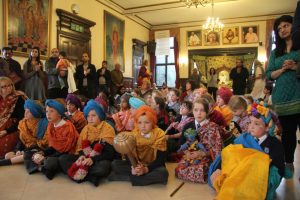 After 32 years, IES has reached more than 580,000 students and 60,000 teachers and it has shared the knowledge of Vaishnavism and Hinduism to society at large in order to achieve real unity and peace.
As a highlight of the celebration there was appreciation to all the devotees and departments involved in this program including the kitchen department, security, reception, hospitality, pujari, management, gardens, goshala and Haveli. "You are all IES and without you, we wouldn't be able to continue with our service," declared IES member Gaurangi dasi.
The current team members include Yogamaya dasi, Bhaktin Alison, Gaurangi dasi, Keli Cancala dasi, Bhaktin Krishna and Daya dasi who are excited and honoured to continue this service and share the practical teachings with many others.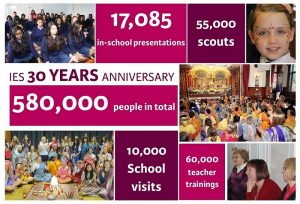 For more information or questions, please visit HinduismRE.co.uk or email them at ies@krishnatemple.com