As part of Bhaktivedanta Manor's on-going 50th anniversary celebrations, Shyamasundar das (born Sam Speerstra) made a special summer trip to the UK to share his precious memories and spend time with the devotees.
He shared material which is included in his three-part memoir Chasing Rhinos with the Swami, especially his most recent book, Part 3, which includes the early 1970's period onward. Not only did his UK tour include the Manor, but also all over London, Birmingham, Coventry, Leicester and even Glastonbury.
After graduating from Reed College in 1965, Shyamasundar Das met Srila Prabhupada in San Francisco in January 1967, and immediately became his devout disciple.
In 1968, to please Srila Prabhupada, he travelled with five chosen devotees to London. There, he witnessed first-hand Krishna's magic display; he befriended the Beatles (especially George Harrison), and courtesy of Apple Records, spread Hare Krishna Mantra around the world.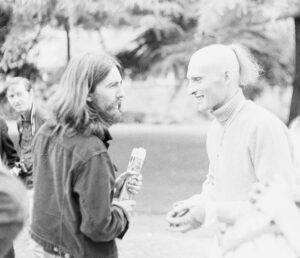 Shyamasundar Das with George Harrison
In October 1970, the Shyamasundar Das was amongst twenty of Srila Prabhupada's Western disciples who accompanied him to India. In June 1971, Srila Prabhupada accepted him as his Personal Secretary. He was by Srila Prabhupad's side, day and night, in the UK, Europe, USA, Africa, Asia, Australia-even behind Brezhnev's Iron Curtain.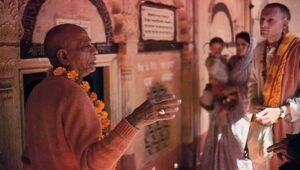 Shyamasundar Das listening to Srila Prabhupada in Vrindavan
If you would like to know more about available copies of Chasing Rhinos with the Swami, please contact Radha Mohan Das: