The Manor's Volunteers' Care Council (VCC) are embarking on 'well-being' sessions to help them look after the health as well as spiritual growth of participants.
Professionals from the Alzheimer's society gave a talk on Dementia awareness, which was received very well by the volunteers who attended. It was an eye-opener and has given us an insight into seeing the world from another person's point of view and being aware of how to support and show compassion. This sits very well with the Krishna Consciousness philosophy where we put ourselves in other people's shoes and show compassion and kindness.
The second part of the evening was hosted by a professional who spoke about substance misuse. Again, this was insightful and volunteers have found this helpful to see the person and the addiction separately. They heard from real life examples of persons who have had these challenges and how they overcame them. This resonates with our philosophy where we don't judge the person but show compassion and kindness to help them overcome the challenge they are going through.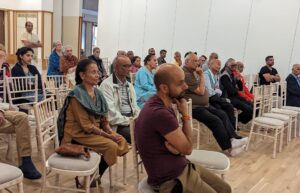 GURUKULA OPPORTUNITIES
The Hare Krishna Primary School is looking for volunteers to help from September. They have bright, well behaved children and are described by Ofsted as providing a 'calm and purposeful place to learn'. If you have some time that you'd be willing to spare to help in the Vaishnava school, they are happy to have devotees come from as little as one hour a week to as many hours as you can spare. Whatever skills you have- we can engage them in serving Krishna's young devotees. There are opportunities to help in classrooms, help with admin tasks, gardening and premises management.
If you are interested and would like to know more, please email our headteacher, Gunacuda dasi, on headteacher@bvmschool.co.uk to arrange a chat/ visit. All volunteers will be given a DBS check and induction before starting.
VOLUNTEERING GROUPS
In the last few months, co-operate companies and other groups have visited the Manor for seva days. They have engaged in services at the goshalla, gardening, kitchen and Holland Farm. They have relished serving and have found the tours with the Hospitality Team inspiring.
For more information about volunteering at Bhaktivedanta Manor:
volunteer@krishnatemple.com