On Saturday 9th July, Bhaktivedanta Manors Festival Committee took the initiative and treated the community to a new and exciting summer festival. The event included devotional market stalls, prasad, a music stage and most notably a Festival of Colours. 4000 guests enjoyed their visit on that particularly warm and sunny day.
The Festival of Colours has its origin in India, where it is exclusively known as Holi. Celebrated since ancient times, Holi traditionally welcomes in the country's spring. It is also seen as a new beginning where people can release all their inhibitions. Significantly, long ago Lord Krishna played Holi on the banks of the river Yamuna with Radharani.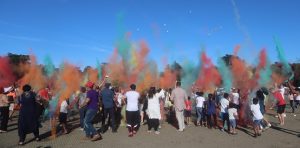 This festival is planned to be held at Bhaktivedanta Manor annually, during the UK's warm summer months. Everyone is welcome!