Manor Communications team member Roshni Thakrar attended an interfaith workshop focused on "Utilising Faith for Our Planet: Equipping Faith Leaders for Climate Action" at the offices of the Lord Mayor, Westminster City Council. The event was hosted by Faith For Our Planet (FFOP), which has been set up to help channel the trans-formative ability of faith leaders to encourage behavioural change in respective constituencies and aid better collaboration between leaders, climate experts, policymakers and activists.
The event brought together 25+ guests from different faiths and backgrounds to better understand the challenges of climate change, and how our communities can be empowered to create positive change.
"We urgently need to reduce the acceleration and consequences of the tipping points for climate change," explained Roshni.  "For we as a congregation, we need to encourage friends and family to think more about our daily practices…By using our faith, the teachings from our revered scriptures and through determination to serve Mother Earth sincerely, we can do our part to heal and restore her whilst living more alongside our true nature.
Roshni also represented ISKCON at a multi-faith weekend hosted by St Ethelburga's, a Church of England centre for reconciliation and peace in Dorset. Participants learnt about different faiths as well as connecting through yoga, meditation, night walks chanting, folk singing and importantly, hedgerow planting.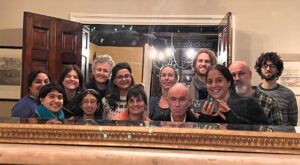 Hedges are vitally important to the landscape as they act as a shelter and is wild food for animals like reptiles and amphibians, birds, mammals such as foxes, voles, shrews and insects such as bees and hoverflies.
Contact eco-bhakti-sanga@googlegroups.com to get more information and be added to the growing group.