Devotees of ISKCON Korea performed a special Narasimhadeva yajna, with  prayers for Reliance Industries Ltd's new FPSO vessel. Executive Director of Reliance Industries Mr Panda Madhusudana Siva Prasad, his daughter Ms Juveca and the CEO of Samsung Heavy Industries Mr Jin-Taek Jung were among the chief guests.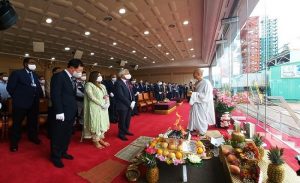 Former member of Bhaktivedana Manor Patanjali Muni das is now ISKCON Korea's Regional Secretary and Temple President in Seoul. He conducted the ceremony and it was also his great pleasure to offer Mr Jin Taek Jung a copy of the Korean language version of Srila Prabhupada's Bhagavad Gita As It Is.
The Narasimhadeva yajna and indeed the construction of the ship took place on the Geoje Island in South Korea. It is an area which houses one of the largest shipyards in the world and the new FPSO vessel has a value of US$ 1 billion.