New British Prime Minister Mr Rishi Sunak and his wife celebrated the festival of Janmashtami at Bhaktivedanta Manor this year. Mr Sunak has visited the temple with this family before many times.  Mr Sunak was welcomed in a customary tradition of blowing of conch-shell and a garland before they toured the Temple and grounds. He was greeted by Her Grace Vishaka Dasi the temple president who said "This is chance to for everyone to experience the hospitality of Bhaktivedanta Manor."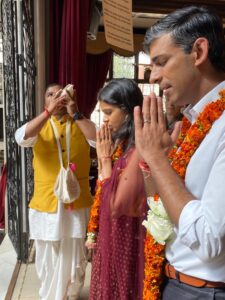 Mr Sunak addressed some of the 1,200 volunteers who were helping at the Janmashtami festival.
Mr Sunak said "it's been a tough campaign for me, but times of the most difficulty I have been given the teachings of the Gita and it has been the Gita that has given me strength to keep fighting for things I believe in."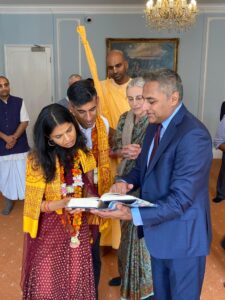 His visit culminated in feeding the cows. The Manor has 62 Belgian Fresian cows at what has been described as the Hilton of dairy Farms, promoting the welfare of cows and bulls and compassionate farming techniques.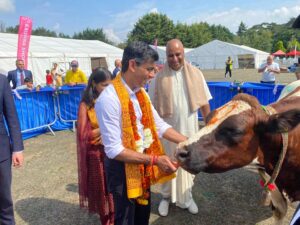 We offer our heartfelt congratulations to Rishi for becoming the new British Prime Minister.