A participant shares his memorable  experience:
"Be a Monk offered me a rare opportunity to cut myself off from the distractions of everyday life and focus internally through a holistic 7-day experience which provided me with a taste of spiritual practices that most people will never get the chance to experience.
"On my first day on the Be a Monk challenge I was introduced to a group of 13 fellow spiritual seekers from all walks of life. Everyone seemed motivated and enthusiastic to take a step out of the rush of their day-to-day, to really dive into an environment that promoted reflection and care. Each individual had their unique story on how they were introduced into spirituality. One of them was an a graduate from the London School of Economics who had felt the positive impact of chanting the Hare Krishna mantra during their studies and wanted to explore the monastic lifestyle further to really get to know themselves on a deeper level before stepping out into the working world. However, there were also people who had no prior experience with Krishna Consciousness and were just seeking an opportunity to learn in an environment that was fully absorbed in spiritual practices.
"Over the week, we dived in towards the monastic lifestyle with the morning program which entailed engaging in meditation, prayer, singing, and dancing every morning as part of the spiritual sessions. At the start of the week, all these practices were very new to us, however through the guidance and care of the resident monks we were taught the step by step processes of spiritual life with each challenger fully absorbed and enjoying the early morning experience by the end of the week.
"We were always well fed with tasty vegetarian feasts, and we spent time learning about topics on philosophy like the soul, karma, and reincarnation alongside the practical applications of ancient philosophy for the modern day. These sessions were facilitated by different monks who have been studying the bhakti tradition for decades and gave us a platform to deeply understand the whole process. 'Debunk a Monk' was a personal favourite in which we all had an opportunity to really "grill" the monks, allowing us to clear our doubts by asking any questions we could possibly think of.
"Throughout the week we also took part in various activities like spending time on the organic vegetable farm, and working with cows and oxen, which was a rare and fascinating opportunity for all of us! We continued to bond and build strong connections as a group while cooking and distributing karma-free food to the homeless as part of the temple's 'Food for All' charity whilst also chanting mantra music in the background. These weren't just your everyday activities; they are part of the ancient spiritual culture and brought about a genuine sense of satisfaction within the heart.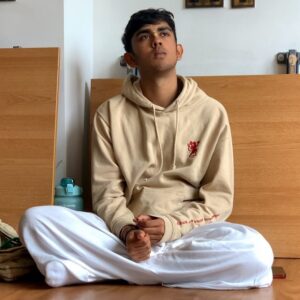 Be a Monk participant, Vinay
"Evenings were our free time in which we got to really explore the beauty of Bhaktivedanta Manor. The natural beauty of the surroundings  gave a sense of being in a bubble outside the city life with its beautiful scenery available for all to access; allowing everyone to reflect on their experiences over the days and really hone in on what really matters in life; the internals.
"Overall, the Be a Monk challenge was truly a life-transforming experience that I would recommend to everyone, no matter their background or experience. People go searching for hundreds of miles, spending thousands of pounds to find an experience like this and who knew it would all be at this temple in Watford.
Be a part of this life-transforming experience by registering your interest at www.krishnatemple.com/beamonk, or drop us an email at ashram@krishnatemple.com