Three former students from Gurukula – The Hare Krishna Primary School has made a contribution toward RE Today magazine on the topic of pilgrimage.
Tulsi Seva Dasi, who occasionally contributes to the magazine, was approached to find students at the Gurukula would like to write about their experience on a pilgrimage to India. Keli and Sita, who are now in year seven and eight respectively, wrote about their trip to Vrindavan and Mayapur. Yamuna is now a photography student also wrote about her experience in Vrindavan.
Excerpts from the articles:
Keli writes: "I was glad to see Krishna's Vrindavan where he appeared 5000 years ago. It made me happy to be there. It's a magical place."
Sita writes: "I would recommend this pilgrimage to other people. These are so many things to do and so many places to go. It just wakes you up and when you remember your journey to Mayapur you will be happier and peaceful.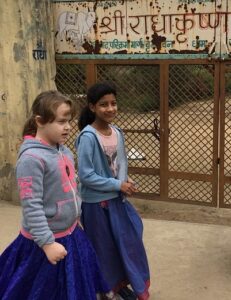 Yamuna writes: "I find that when in a spiritual environment spirituality becomes easy, addictive and uplifting. However it is very easily forgotten about when we are not engaged in activities such as chanting on our meditation beads."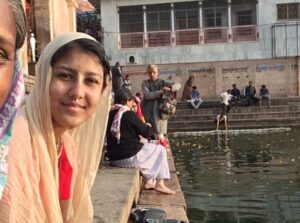 Teachers use this information when teaching about Hinduism (or Sanatana Dharma) and guidance is given on how to use the stories in the classroom. There are 3000 teaches and RE specialists who subscribe to RE today and the National Association of Teachers of Religious Education (NATRE). RE Today supports teachers and schools and works in the UK and beyond to give children a broad and balanced education to support them in the world they live.
gurukula.org.uk